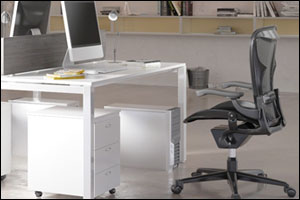 Workspace.ae introduces a range of new office furniture solutions that support evolving spaces and emerging needs. Workspace's newest launch includes many new products, improvements to existing products, and the introduction of innovative storage solutions.
Marshal Ergonomic Executive Chair, Fila Ergonomic Chair and Max Series Height Adjustable Desks are among the recent addition to the modern office furniture collection.
Workspace.ae is also first to offer online office furniture customization and ordering solutions in UAE with an option to create an instant e-quotation from a user-friendly online platform.
Workspace.ae understands the unique needs of businesses in and around the UAE, which is why they aim to support them with best-in-class furniture and a selection that simply can't be beaten. The convenience of going online to shop, create and purchase various designs of office furniture is all too great for most commercial enterprises to pass up. Clients in various niches in the private and government sectors have already taken advantage of the numerous benefits of shopping with Workspace.ae and the company looks forward to another exemplary year of supporting businesses of all sizes and scopes with comfortable, stylish, affordable workstations and desks.
About Workspace.ae
Workspace.ae is a Dubai based e-commerce company specialized in design, manufacture, and supply of modern office furniture. Workspace.ae provides custom-made cost-effective furniture solutions for both private and government sectors in the United Arab Emirates.
Contact:
Mandana A.
info@workspace.ae
145 Emarat Atrium, SHZR.
Dubai, United Arab Emirates
Ph: +971-4-3440091