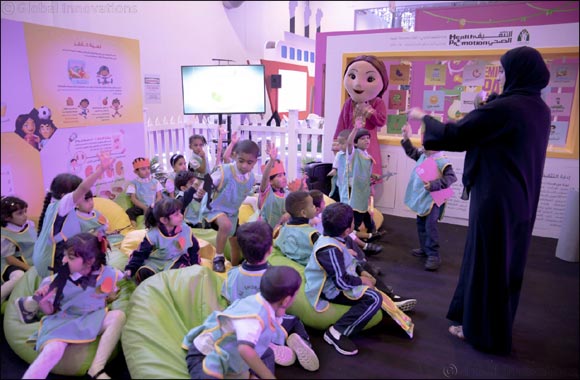 Iman Rashid Saif: We are keen to strengthen the Emirate of Sharjah's efforts to raise health awareness among children and their families
Sharjah, April 17, 2019: The Health Promotion Department at the Supreme Council for Family Affairs in Sharjah (SCFA) will take part in the 11th edition of the Sharjah Children's Reading Festival (SCRF), which is by organized by Sharjah Book Authority (SBA) under the theme "Explore Knowledge".
The event will be held at Sharjah Expo Centre during the period from 17 – 27 April.
The participation of the Health Promotion Department comes as part of its strenuous endeavors to spread health awareness among members of the society in general and to promote children's health culture in particular. It also comes in line with the Department's vision in fulfilling the health, educational, awareness needs of the children.
The Health Promotion Department said it has prepared for its visitors from the children an impressive programme full of interesting educational activities which aim at instilling health awareness in children's souls. Most of these activities depend on the interaction style to motivate children to be more active and to engage in physical activity. This pattern of life will avoid them any diseases resulting from inactivity and laziness, as well as eating junk food and other poor eating habits.
The Department's pavilion comprises a podium dedicated to introducing its events jointly with its health-affiliated associations. Also, there is be a special section for awareness competitions, such as the "Wall Game". The concept of this game relies on photo cubes.
Some of these cubes are showing healthy food, while others are showing types of food which are detrimental to health. The aim of this game is to let children discriminate between both types of displayed food.
Also, other photo cubes contain sport exercises stimulating activity and thinking, in addition to various health questions aiming to educate children on the importance of healthy food and to shun junk food with a highlight of its hazards.
Promoting a culture of eating vegetables and fruits and adopting a healthy lifestyle, as well as encouraging the children to focus on research and knowledge, in addition to enhancing the importance of physical activity are also part of this "Wall Game".
Further to that, the pavilion contains TV showing lots of awareness and educational shows and movies dedicated to the children.
On the sidelines of these activities, there will be direct communication with the parents at the pavilion through the female volunteers and health educators to answer their queries about their children's health and nutrition, besides distributing health leaflets and brochures.
HE Iman Rashid Saif, Director of the Health Promotion Department, said: "Since the opening of the Department, it has launched diverse programmes and initiatives thanks to the endless support of Her Highness Sheikha Jawaher Bint Mohammed Al Qasimi, Wife of His Highness the Ruler of Sharjah and Chairperson of the Supreme Council for Family Affairs. These initiatives are aiming primarily to strengthen the Emirate of Sharjah's efforts to raise health awareness among children and their families and to fully invest children's energy and capability, so as to face the future challenges and to pursue the march of construction."
"This comes in line with the Emirate of Sharjah's and the UAE's vision that aim at developing an integrated healthcare system, down to free-of-disease and happy society in accordance with the UAE Centennial 2071," the Director of the Health Promotion Department added.
"Our participation in this important event is part of our strategy in terms of widely spreading health awareness among the society individuals generally, and among children who are considered the cornerstone of any society in particular. The Department and our health-affiliated associations dedicated health, social and educational awareness programmes to improve children's health and nutritional behaviors in order to reduce the prevalence of diseases and to increase children's knowledge about health hazards," Saif elaborated.
She shed light on other initiatives which aim to engage the children in the march of development and to foster their participation in their relevant issues at all levels, including education, health, and creatives issues. She also noted that the UAE has guaranteed the child's right to grow up and enjoy a safe and stable life, and protected them from all forms of abuse through a package of compulsory legislation in this regard.