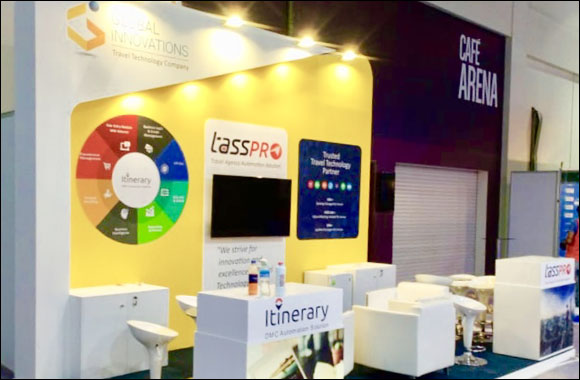 The new product, TassPro, will be an exceptional point of sale solution for travel agencies
Global Innovations, with its state-of-the-art IT services, is all set to participate in the Arabian Travel Market (ATM) 2019. The ATM is a leading international event focused on the travel and tourism industry. Envisaged with a goal, Global Innovations is dedicated to serve with strategy-inspired Travel Technology Solutions for the automation of the tourism trade. They strongly believe that "continuous improvement is the only means of achieving excellence", this has led to them constantly improving, innovating and improvising its offerings, thereby adapting to the ever-changing dynamics of the travel and tourism industry.
Until 2016, from the time of inception, automation of inbound tourism with "ITINERARY" (DMC Automation solution) was the only area of interest for Global Innovations. This helped them gain profound domain knowledge, expertise and an ever-growing skill set which lead to the company expanding beyond the inbound industry. To diversify and cater to a much larger customer base, Global Innovation, in 2016, Launched their flagship product: a comprehensive automation solution for outbound travel industry "TassPro" (Travel Agency Automation Solution). This product has now matured as an exhaustive and unrivalled automation tool for travel agents, TMCs, and travel wholesalers in the region and is now ready to be taken to the global stage.
Recently, Global Innovations announced the rebranding of the company and their products. It is a leading Travel Technology & Solutions company, based in Dubai, providing software solutions to DMCs (Inbound Operators), Travel Wholesalers (Outbound) and Travel Agents which enable them to fully automate their business processes. They are a cross-disciplinary team of Domain Experts, User Experience Designers, Software Engineers and creative technologists that provide elegant, cost- effective services to an international client base. They specialize in innovative, strategy-inspired Travel Technology Solutions proudly driven by their collaborative and transparent client relationships.
The 4-day event from April 28 to May 01 is held at the Dubai International Convention & Exhibition Centre (World Trade Centre). This event aims to provide a unique platform to enable visitors, from all around the world, to gain insight into Global Innovations', it's products and solutions and witness their product demonstrations.
Find out more about Global Innovations and meet their product experts by visiting them at Stand no. TT1410, Sheikh Saeed Hall 1 (Travel Technology).
for details visit our website http://www.giinfotech.ae