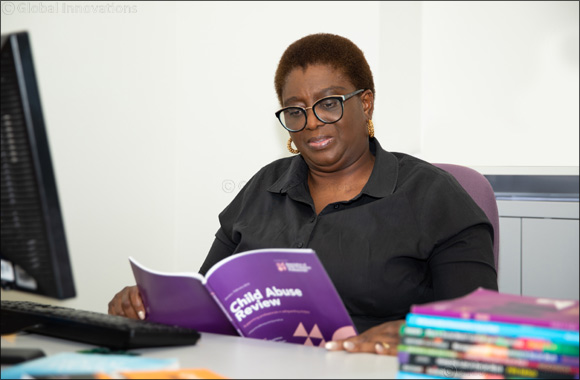 Dubai, United Arab Emirates - 27 June 2019: As a black African British academic, and social worker, Dr Prospera Tedam used her background to research struggles experienced by social workers in the United Kingdom when working with people from different culture and ethnic backgrounds.
The assistant professor in social work at the United Arab Emirates University (UAEU) recently published a book, in collaboration with a professor from Nottingham, entitled Cultural Diversity in Child Protection. Cultural Competence in Practice.
"One of the key issues we find in social work practice in the UK is that some social workers struggle when they are working with families, children and clients from black and minority ethnic background," she explained. "They struggle in the sense that it can be difficult for them to understand cultural appropriateness, as what is considered appropriate in one culture or area is not in another."
In terms of child protection, which is her main practice and teaching area, she found that a lot of parents from these backgrounds were getting themselves in trouble with social workers because of over-chastisement. As such, she has been researching in different ways, over the past 10 years, a key area of understanding where and how culture, race and ethnic diversity can be understood when one is working within child protection services.
"The book is focused on understanding social work practices in the UK but examples we use and strategies we propose can be used anywhere effectively," Dr Tedam noted. "We propose some tools for assessing families, children and keeping them safe, that are general and more global."
The book has taken three years to hit the shelves, with all of her research started during her time in the UK, before she moved to the UAE almost a year ago as she completed her final chapters.
One of the other areas of interest for her was attempting to understand the way in which social workers in the UK offer services to Arab Muslim families and the lack of understanding of their faiths and cultures, which also creates tensions between them and Arab families. "It's about how we can work with people who are different to us and how we can apply our cultural competence knowledge in practice," she said. "If you look at child protection, we are all in the business of protecting children. In the UK, people tend to get involved when they see a child being hit in public, so it's everybody's business."
Some of the ideas suggested in the book focus on the manner in which one can understand communication patterns if they do not speak the same language as the family they work with, as well as how to ask the right questions, and distinguishing what caring and loving behavior is versus what one perceives as abusive. "These things are culturally mediated," Dr Tedam went on. "For us as social workers thinking about children, we recognize that children are everywhere, mainly in schools, clubs, cinemas and malls, so if everybody – the general public – has an understanding of how to be generally competent, then less discrimination will come about."
She is also looking at ways in which to make people more culturally competent in all their practices, including nursing and teaching, as part of teaching social work in the UAE.
The Emirates enacted Wadeema's Law in 2016 concerning child rights, which stresses that all children must be provided with appropriate living standards, access to health services, education, equal opportunities in essential services and facilities, without any kind of discrimination.
The law protects children against all forms of negligence, exploitation, physical and psychological abuses. "Prior to the law, people underestimated the degree and depth of abuse towards children," Dr Tedam concluded. "Many of them see it as correcting their children and disciplining them.
In my class of child protection, I get a lot of students saying it doesn't happen here or they don't think about it the same way, so it has taken them a longer time to acknowledge this here and they say some television programs by Abu Dhabi Police tells them about child abuse and they now have more awareness about it than previously."
As the years progress, she believes it will be one of her areas of research, including how westernized concepts translate in the UAE and how people view child protection in the Emirates, a country which includes many people from different backgrounds.