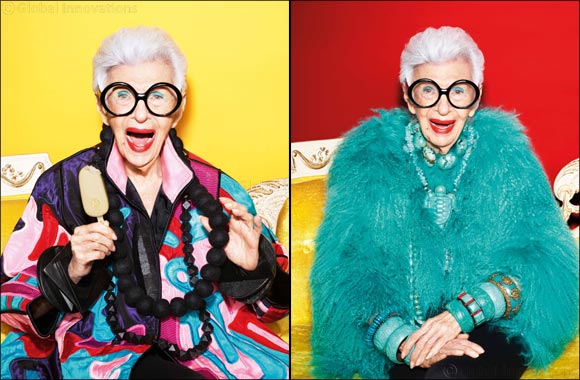 Apfel stars in major, global campaign to encourage and inspire people to be true to their pleasure
Dubai, United Arab Emirates - 02 May 2019: Magnum, the world's authority on pleasure, announced its most playful collaboration yet with style icon, businesswoman and modern-day muse, Iris Apfel. To launch its #TrueToPleasure campaign and inspire people to be true to what brings them true pleasure, Iris stars in vivid, bold and colourful stills shot by the inimitable Mert Alas & Marcus Piggott and two short films, directed by Martin Werner.
Speaking from the Magnum shoot in Miami, Iris said; "I have done many things in my life and throughout, I have always tried to live without fear of judgment. Otherwise, you miss out on all the fun! I was thrilled to collaborate with Magnum to bring this attitude to life and I hope we inspire you to do the same. Feel empowered to be a little more lighthearted and playful… I know I will continue to do so!"
IRIS THE MUSE
To capture this year's campaign stills, Magnum has collaborated once again with fashion icons, Mert Alas & Marcus Piggott – fearless in their own pursuit of pleasure. Posing for the artistic duo, Iris' hallmark vibrant colour and playful, fearless spirit has been brought to life with their signature style. The bold images can be seen throughout the summer at Magnum Pleasure Stores around the world and on @MagnumArabia 's Instagram channel.
Speaking at the shoot, Mert Alas said; "We have been lucky enough to shoot many of the great icons, so adding Iris to our hall of fame was a true pleasure. Iris is the posterchild of living life with a playful twinkle in your eye, exactly they kind of strong women we love to capture. This is what we really aimed to capture in the stills."
IRIS THE FILM STAR
At the age of 97 and showing the full extent of her fearlessness, the campaign also sees Iris take her turn to star in two short films, which were captured as episodes. Directed by Martin Werner, the first episode is a window into Iris' fascinating life and the many ways that she has proudly pursued her own true pleasures. The second episode defines Iris' manifesto for a new generation of pleasure seekers to let go and indulge, taking inspiration from her own life, to be authentic to what personally brings them true pleasure. Episode 1 can be viewed here https://youtu.be/uVtvXt5gCJE and Episode 2 can be viewed here https://youtu.be/repvCcimrdo
Speaking of the films, director Martin Werner said; "I really wanted this campaign to capture the true essence of Iris and what makes her such a captivating and inspiring icon. The films show how, even at 97, she pursues what brings her pleasure in life – her wicked sense of humor and her bright colorful outlook made it a joy to create."
MAGNUM X IRIS APFEL IN CANNES
On 16th May, Magnum will be joined by Iris and other special guests at its home on La Croisette during the Cannes Film Festival. Dedicating this year's presence at the festival to celebrate and inspire the pursuit of fearless pleasure, Iris will lead a panel discussion to talk about the campaign and what inspires her.