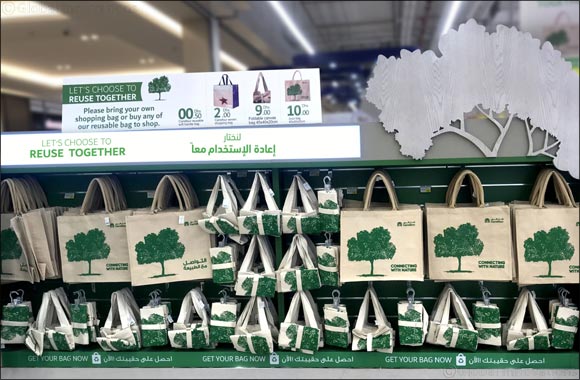 Carrefour to offer customers free reusable bags and monogramming in selected stores to encourage reduction in single-use plastic bag usage
Dubai, United Arab Emirates - 06 July 2019: Carrefour, operated in UAE by Majid Al Futtaim, is highlighting International Plastic Bag Free Day on 03 July to encourage customers to shop with reusable bags and decrease their reliance on single-use plastic bags.
Customers bringing their own reusable bags at all 31 Carrefour hypermarkets across the country will be gifted a foldable canvas bag or juco bag from its 'Connecting with Nature' range, which retail at AED9 and AED10 respectively. Similar initiatives run in the last year have seen a near x10 increase in the number of customers buying reusable bags.
Carrefour is also offering customers at its Mall of the Emirates store free monogramming on the purchase of a reusable foldable canvas bag on 03 July. Customers can have the name or initials of their choice monogrammed on to their newly-purchased bags free of charge.
As an added incentive, Carrefour customers shopping with reusable bags will be able to take advantage of fully operational dedicated counters for reusable bags across all hypermarkets, which will save them time at the final stage of their shopping.
Philippe Peguilhan, Country Manager at Carrefour UAE at Majid Al Futtaim Retail, said: "Sustainability is at the heart of what we do at both Carrefour and Majid Al Futtaim, and we are setting ourselves ambitious targets to reduce single-use plastic usage. We aim to inspire customers through our initiatives to contribute to a greener earth while we continue to create great moments for everyone everyday."
Carrefour was the first retailer in the UAE to sell reusable shopping bags, having launched its now iconic 'starfish' bag in 2007. Since then, Carrefour has consistently encouraged all customers to re-evaluate their usage of single-use plastic bags and consider how they can opt for more sustainable alternatives.
Today, Carrefour sells three different types of reusable bags: a woven plastic bag (retail price: AED 2.5) a canvas foldable bag (retail price: AED 9.5) and a heavy-duty juco bag (retail price: AED10). Carrefour promises to replace any of these bags at any point if they are damaged or can no longer be used.