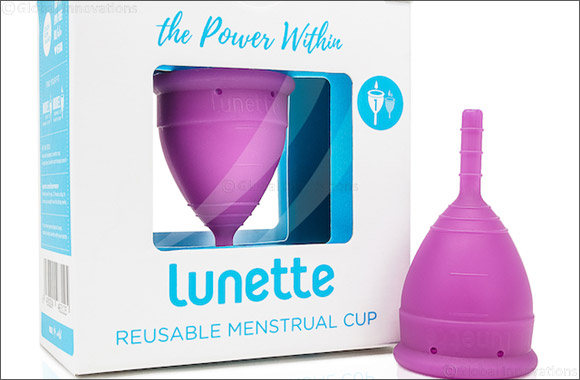 **Lunette is the easy-to-use, safe, and clean alternative to pads and tampons**
Dubai, United Arab Emirates - 14, August 2019: There's nothing pleasant about a period, for girls and women around the world, periods can be a hassle. Besides the aches and pains associated with periods, standard menstrual support products also add serious mileage to your carbon footprint! But did you know there is an eco-friendly and sustainable alternative to pads and tampons available that also won't harm your body?
Lunette, a female-led global menstrual cup company offers the future of feminine protection. Easy and safe to use, the new vegan menstrual cup is made of soft, toxin-free medical-grade silicone. Each cup can last up to 12 hours. Perfect for the body and the environment, one Lunette cup can eliminate up to six hundred tampons (two years-worth of period products) from the environment.
And in a bid to further its environmental footprint, Lunette's packaging is fully recyclable, including the 'window' on the cup box, which is made from vegetable cellulose. The Lunette Menstrual Cup lasts at least two years with proper care and can be burned to ash when it's to be replaced.
Lunette believes education and awareness is key to improving menstrual hygiene management. The company is working with organizations around the world who share this vision.
Commenting on Lunette's mission, founder Heli Kurjanen says "Our mission is to have honest and inspiring conversations about menstruation so that we can motivate period positivity and change the world, one cup at a time. We believe in bringing education, opportunities, and intelligent solutions for every menstruating person on the planet – because no one deserves to stop their normal day-to-day life just because they don't have access to safe and comfortable menstrual care."
Period Trash Impact
• The average person disposes of about 300 lbs. of period trash in their lifetime. That's as many pounds as one Sea Turtle weights.
• Plastic tampon applicators are not recyclable, ending up in sewer systems and waterways. The Ocean Conservancy reported collecting 27,938 use tampons and applicators on global beaches on one day in 2015.
• A year's worth of disposable pads and tampons leaves a carbon footprint of 5.3kgCO2 per person.
• Organic tampons take around 5 years to decompose and plastic applicators around 500, if ever.
• The average menstruating person gets about 450 periods and uses 11,000 period products in their lifetime.
Lunette Menstrual Cup retails at AED 157.5 and comes in a vibrant violet color and two sizes. It is available for purchase at Boots, Spinney's and United Pharmacy stores and online on Sprii.com and Amazon.com.