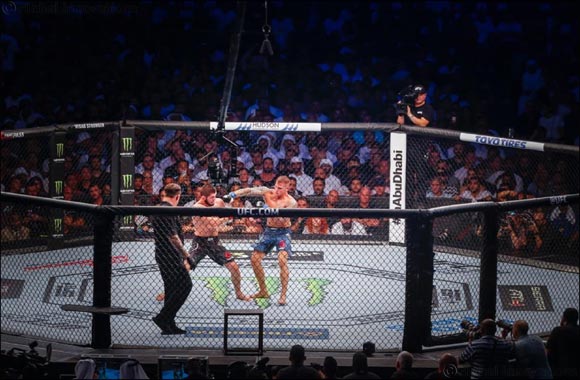 Huge wins for Felder, Makhachev, Blaydes and Ferreira at The Arena on Yas Island
History made as Calderwood and Moras claim wins in Abu Dhabi's first UFC women's bouts
Inaugural Abu Dhabi Showdown Week ends with epic UFC 242 finale as UAE capital cements status as the "undisputed home of MMA in the Arab world."
Abu Dhabi, UAE – Sunday 8th September, 2019: UFC lightweight champion Khabib Nurmagomedov underlined his standing as the division's best-ever fighter with a dominant victory over interim lightweight champion Dustin Poirier at UFC 242 on Saturday night.
Held in front of a sold-out crowd of nearly 14,000 at The Arena, on Abu Dhabi's Yas Island, as part of the emirate's week-long Abu Dhabi Showdown Week, the Russian survived a Poirier submission attempt in the third round, before turning the tables to submit the American through a rear naked choke and extend his career record to 28-0.
"Everything I am is because of my father. I want to say thank you to my team, my brother, my uncles – we have grown up together, we have all done this together," said Khabib, who also praised Poirier following the bout. "MMA is about respect, this is what we showed tonight. I changed t-shirts with him because I feel we can use this platform to help people. I love Abu Dhabi, it's the safest city in the world. I love the energy."
The defeated Poirier was devastated: "I feel like I let myself down. My career was set up for this moment, I thought it was destiny. I was so prepared, I didn't cut any corners. He's the world champion. I have to live with that for the rest of my life."
With the Khabib-Poirier super bout dominating much of the UFC 242 build-up, the Abu Dhabi Showdown Week finale proved a clash for the ages as the 13-strong fight card threw up a host of tense encounters between athletes from 13 countries and five continents.
Immediately before the main event, top-ranked lightweight strikers Edson Barboza and Paul Felder relived their 2015 'Fight of the Night' bout in Chicago - famously won by the Brazilian - with another ferocious confrontation in the Abu Dhabi Octagon.
In under 90 seconds, as the pair exchanged thunderous hooks, a Barboza blow opened up a nasty cut above Felder's left eye. Felder, weary but unbowed, returned fire and the pair briefly went to ground early in the second-round - the only time the fight went to the canvas. With the pair back on their feet and exhanging an endless series of punches, kicks and knees in the final round, a split decision went Felder's way - the 'Irish Dragon' had exacted his revenge.
Elsewhere on the main card, Russia's Islam Makhachev delighted The Arena crowd by defeating Davi Ramos via a unanimous judges' decision. After a cautious opening two rounds, the third and final round exploded into life when Makhachev unloaded a flurry of blows that grounded the Brazilian. Makhachev then assumed top mount for a full four minutes, enough to swing the judges.
"Now I just want to fight someone in the top 10," said Makhachev, who was later dubbed a future lightweight champion by Khabib.
In the evening's only heavyweight bout, the USA's Curtis Blaydes, ranked fourth in the division, dominated ninth-ranked Shamil Abdurakhimov, of Russia, to claim a TKO after a second-round stoppage.
"It feels really good to get the win and I'm really excited to go for the next one. The fight was exactly how we predicted it might happen; how to hold him, get him on the ground, takedowns, everything. We have now got to wait and see what happens next, but I am ready for anything, anyone," said Blaydes.
In a night of huge lightweight clashes, Brazil's Diego Ferreira scored a unanimous decision victory over Russia's Mairbek Taisumov after the pair's strike-heavy clash went the full three rounds. Ferreira's win elevates him to the fringes of the stacked division's top-15 ranked fighters.
History was made at The Arena as the first two women's UFC fights were held in Abu Dhabi. In the evening's biggest women's bout, Scotland's Joanne Calderwood and American Andrea Lee went the distance, with Calderwood winning a split decision to amplify her standing as a top-five ranked women's flyweight contender.
Following the fight, Calderwood revealed she is eager to face UFC women's flyweight champion Valentina Shevchenko, who was ringside in attendance and has been one of eight guest athletes in the emirate during Abu Dhabi Showdown Week.
"This is one of the best wins of my career. It's such a relief to get the win. I'm happy I put on a good performance. I knew as soon as we got matched up with Andrea it was going to be a hard and exciting fight. Those are the fights I want," said Calderwood. "Of course I want to (fight Shevchenko), I'm here to bang it out with anyone in the division."
Earlier, Sarah Moras, of Canada, became the first-ever female UFC winner in Abu Dhabi after defeating UFC debutant Liana Jojua, of Georgia, via TKO in the third round. "It feels so good to be the first female to win a UFC fight in Abu Dhabi. It's amazing," said Moras. "It means the world to me and I hope it means the world to the people here."
Other results at UFC 242 saw Russia's Zubaira Tukhuov and Lerone Murphy, from England, split draw their featherweight clash after judges scored the fight 29-28, 28-29 and 28-28, while Moroccan lightweight Ottman Azaitar scored a crushing first round knockout win over Teemu Packalen, of Finland, with a fearsome right hook.
In the first four preliminary fights of the night, lightweight Don Madge, from South Africa, edged out France's Fares Ziam via judges' decision, who also awarded middleweight Omari Akhmedov a unanimous win over the USA's Zak Cummings. Elsewhere, welterweight Muslim Salikhov scored the first knockout of UFC 242 with a devastating right hook only 36 seconds into round one, while Palestinian American fighter Belal Muhammad submitted Japan's Takashi Sato via rear naked choke in round two.
With UFC 242 marking the first event since the Department of Culture & Tourism – Abu Dhabi (DCT Abu Dhabi) signed a five-year partnership with UFC in April, Hassan Al Shaiba, Acting Executive Director of Tourism and Marketing, DCT Abu Dhabi, stressed the emirate will build on the success of the inaugural Abu Dhabi Showdown Week in coming years.
"Our five-year partnership with UFC will become a key component of Abu Dhabi's thriving events calendar, which is already packed full of great sporting cultural, arts and entertainment events. Securing an annual calendar date for this spectacular MMA event, which has a huge following around the world and in several of Abu Dhabi's major international source markets, will bring heightened impetus to visitation and boost incoming tourist numbers as fight fans across the world gather in Abu Dhabi. The UAE capital and UFC share a vision to cement Abu Dhabi as the undisputed home of MMA in the Arab world."