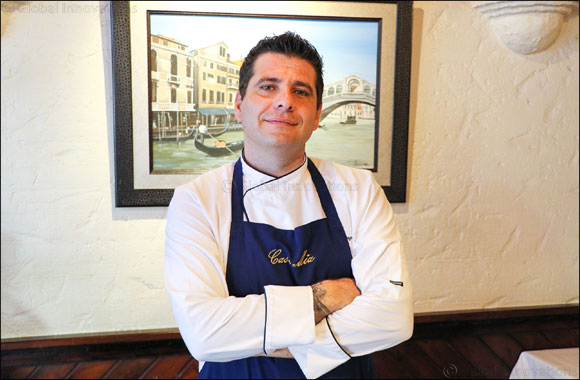 Dubai, United Arab Emirates - September 09, 2019: Bringing 10 years of experience in managing kitchen operations and proficiency in international cuisines, Chef Giuseppe's mastery is undeniable in the Italian cuisine. Crediting his skills to his strong Italian upbringing, he has been an integral part of Casa Mia's operations, one of Dubai's original Italian restaurant revered for its home-style Italian fare for over 25 years.
Promoted to lead the award-winning restaurant's kitchen as Chef de Cuisine, he is well versed with Casa Mia's signature dishes, has a deep understanding of guest preferences and processes to ensure that the kitchen operates with absolute precision.
"Casa Mia is renowned for its Italian specialities and by appointing Chef Giuseppe to lead its kitchen, we are ensuring that our guests continue to experience the same sense of nostalgic comfort as they have over the last 2 decades. Having worked closely with Chef Maurizio in the past, Chef Giuseppe as Chef de Cuisine will continue the legacy of Casa Mia," explains Carlo Javakhia, Complex EAM, Le Méridien Dubai Hotel & Conference Centre and Le Méridien Fairway.
Extremely methodical, Chef Giuseppe will take charge of all kitchen operations and brings in a fresh perspective whilst recreating traditional specialities that are deeply rooted in Italy's culinary traditions with subtle references to contemporary flavours. "Having the opportunity to contribute to Casa Mia's legacy is a great honour and I am extremely fortunate to have the backing of a talented team to highlight Italy's culture of gastronomy, so that our guests continue to experience the comforting flavours of the region's specialities," shares an elated Chef Giuseppe, Chef de Cuisine, Casa Mia.
Giving diners a taste of 'la dolce vita', the assorted offerings at this quaint Italian award-winning restaurant are a labour of passion, delighting guests and aficionados of Italian cuisine with its wonderful symphony of flavours, texture and aromas.
Following his appointment as Chef de Cuisinefor the kitchen operations at Casa Mia, Chef Giuseppe haslaunched a new menu, including signature preparations of Spaghetti Alle Vongole Veraci; delighting seafood lovers with the sublime mix of fresh clams in white wine sauce, Burratina Pugliese, a creamy appetizer of Burrata cheese from Apulia served on a bed of heirloom tomato salad, Fettucine al Rosmarino delighting the palate with rosemary herbed Fettucine, and slow-braised, tender lamb in porcini mushroom-infused parmesan cream, among many others. Casa Mia's new Chef has combined his expertise in Italian cuisine with healthy bites, offering roasted Salmon fillet served on a bed of steamed vegetables, grilled seasonal vegetables, spiced whole wheat Spaghettoni with Datterini tomatoes and Goji berries.