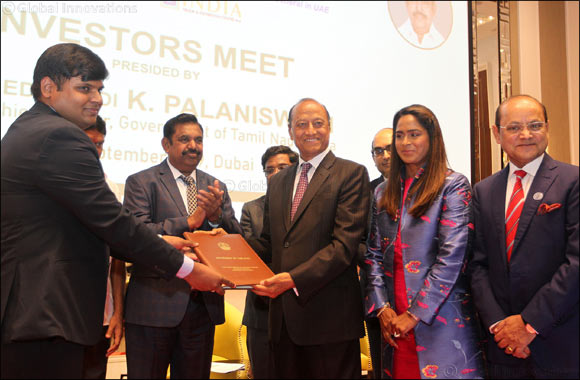 Indian state Tamil Nadu's Chief Minister EK Palaniswami holds investors' roundtable in Dubai
The delegation signed several Memorandums of Understanding (MoU) with UAE investors during the visit resulting in raising INR 4,200 crores of investment
Dubai, United Arab Emirates - September 10, 2019: Edappadi K Palaniswami, Chief Minister of South Indian state of Tamil Nadu addressed a high-level meeting with members of the Business Leaders Forum (BLF) to seek foreign investments for the State's ambitious megaprojects. This is the first visit of Mr. Palaniswami to the UAE since he assumed office as Tamil Nadu Chief Minister.
His Excellency Shri Vipul, Consul General of India to Dubai, said, "The UAE is the last stop of Mr. Palaniswami's three-nation tour. Before his arrival in Dubai, the Tamil Nadu Chief Minister visited the UK and the US in a bid to woo investors to invest in the State, which is promoted as one of Asia's most preferred investment destinations. The Indian mission in Dubai is very happy to facilitate signing of this massive number of MoUs. Such a high-level State visit not only promote two-way investment opportunities but are crucial to the relationship between India and the UAE."
The exclusive investors roundtable was hosted by BLF, which is an initiative of the UAE Ministry of Economy, the Indian Embassy in the UAE and the Consulate General of India in Dubai, and India Trade & Exhibition Centre ME (ITEC) as the official secretariat.
Addressing the investors, the Chief Minister said, "It is a privilege to be here, at a time when the relationships between India and the UAE are at their best ever. The recent conferment of 'Order of Zayed', the highest civilian honour of the UAE, on the honourable Prime Minister of India, is a testimony to our growing partnership. I am glad to visit the UAE as part of my two-week foreign tour across the world's three promising nations."
"Tamil Nadu has been taking various initiatives to further promote sectors like e-vehicle manufacturing, electronics, hardware and software, food processing, aircraft MRO facilities, and so on. This visit is to seek tangible investments for Tamil Nadu that is mutually rewarding for both the State and the investors. I am happy that the business community in the UAE and the investors here are very keen to know more about our offerings for investment," he added.
"Facts and figures speak for itself for Tamil Nadu. Frost and Sullivan has ranked Tamil Nadu the second in their overall ranking and first in investment potential among other Indian States; whereas a survey by 'India Today' has placed Tamil Nadu as the number one State for overall performance," Mr. Palaniswami's said.
Presenting the projects at the meeting, Mr. K Shanmugam IAS, Chief Secretary of Government of Tamil Nadu, said, "Tamil Nadu attracted USD 29,848 million of FDI from April 2000 - March 2019, making it the fourth largest FDI destination region in India. We have taken up a series of measures to simplify and rationalize the regulatory processes (registration and inspection processes) by deploying information technology to make governance simpler, responsive, transparent, accountable and efficient."
"Conducive business environment clubbed with various incentives like tax refunds, capital subsidy, highly skilled manpower, quality power supply, state-of-the art infrastructure facilities with six airports, four large seaports and reputation for efficiency and competitiveness have made Tamil Nadu the choice of investors. Tamil Nadu is the second largest state economy in India contributing 8.4 per cent to the nation's GDP, it is also an industrial powerhouse of the nation with a very strong and diverse infrastructural base," he added.
Mr. Paras Shahdadpuri, President of BLF, said, "We have a huge potential to unearth and we have only scratched the surface with this maiden roundtable. There is no progress without a starting and this is a good start for a mutually rewarding relationship."
Ms. Sripriyaa Kumaria, Secretary General of BLF, said, "The investment roundtable was held at the behest and the initiative of the Government of Tamil Nadu. Business leaders and the investors in the UAE have shown keen interest to invest in the State. We witnessed the business leaders in the UAE taking advantage of the favorable investment climate in Tamil Nadu with highly attractive proposals offered by the Chief Minister of the State."
"The Tamil Nadu Chief Minister's high-level delegation consisted of three senior ministers -- Mr. MC Sampath, Minister for Industries; Mr. RB Udhayakumar, Minister for Revenue, Disaster Management and IT; and Mr. KT Rajenthra Bhalaji, Minister for Milk and Dairy Development; and 12 top-ranking officials presenting details of investment opportunities and holding one-to-one meetings with investors from various sectors," she added.
Mr. Sudesh Aggarwal, Sector Chairman Investments at BLF & Chairman of ITEC ME spearheaded the lineup of investment MoUs between the business leaders in the UAE and Tamil Nadu. "This round table has brought tangible and concrete results with MoUs worth INR 4,200 crore signed in key sectors namely bio-diesel, agro and food processing, warehousing and storage, manufacturing and industry, trade and export facilitation, placement of skilled manpower, healthcare, malls and hospitality."
"The MoUs are the first step and expression of intent to invest in Tamil Nadu. We will take the MoUs to a conclusive end and work with the state through Tamil Nadu Guidance Bureau and in liaison with the CM office to realize and implement the MoUs," he added.
DP World signed an MoU to invest in Free Trade Warehousing Zone, which will employ more than 1000 skilled manpower. ITEC ME signed an MoU to establish a multi-trade export facilitation from Tamil Nadu to promote SMEs, and another MoU to facilitate placement of skilled manpower from Tamil Nadu to the UAE. This is expected to generate employment opportunities for 1,000 people. Mr. Suneel Aggarwal, CEO of Giant Industries, signed an MoU for a bio diesel project that will engage farmers in Tamil Nadu and provide indirect employment to hundreds of people in villages. Mr. Shaji Ul Mulk, Chairman of Mulk Holdings, signed an MoU worth INR 500 crores for setting up industries that generating employment of about 500 skilled manpower.
Mr. Mohit Sarkar Chauhan, Director of Pro-Global Logistics, signed an MoU worth INR 150 crores to be invested to set up supply chain logistics in Agri produce. Dr. Jamil Ahmad of Prime Medical Centre signed an MoU in healthcare sector aimed at generating employment directly and indirectly for thousands. Chennai is called the 'healthcare capital of India' with the highest number of medical tourist arrivals. Mauto Electric Mobility Pvt Ltd, specialists in e-auto manufacturing, signed a contract to invest Rs 100 crores employing 5,000 people skilled and unskilled employees predominantly women.
With 14 core projects in the infrastructure, defense, aviation, medical and automobile and manufacturing sectors, Tamil Nadu is the state with the highest number of factories and industrial workers in the country. It is also a leader in terms of industrial output. Tamil Nadu has a highly developed industrial eco-system and is very strong in sectors like automobiles and auto-components, textiles, leather, light and heavy engineering, pumps and motors, electronic software and hardware.