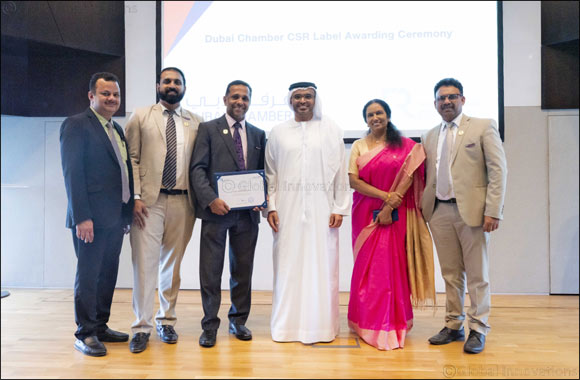 • Dubai Chamber of Commerce and Industry awarded Aster DM Healthcare with the CSR Label which is the highest level of recognition for CSR in the Middle East
• Aster DM Healthcare was presented with the winning award in the healthcare category at the Arabia CSR Awards last night for its CSR and community development initiatives, conducted by The Arabia Corporate Social Responsibility Network
3 October, Dubai, UAE: Aster DM Healthcare has been presented with two prestigious awards for its efforts in the area of CSR and community development in the Middle East by the Dubai Chamber of Commerce and Industry (DCCI) and the Arabia CSR Network, highlighting the organizations ongoing efforts to serve the community.
The healthcare group which is one of the largest in the Middle East and India, places a significant emphasis on giving back to the society and has been awarded with a CSR Label from the DCCI. This label is the first in the region that builds on international standards while ensuring local relevance and is presented to select companies on meeting stringent criteria. Since its introduction in 2010, the DCCI CSR Label has become the highest level of recognition for CSR efforts by businesses in the Middle East and is a fitting tribute to Aster's focus on community development.
H.E. Majid Saif Al Ghurair, Chairman of Dubai Chamber of Commerce and Industry congratulated Aster DM Healthcare for receiving the Label and praised its efforts to raise CSR standards. This achievement, he noted, reflects growing awareness of the importance of CSR among the UAE's business community, adding that he hopes the honour will encourage other businesses to adopt responsible business practices.
Aster DM Healthcare also secured the winning award in the healthcare category at the Arabia CSR Awards ceremony on Wednesday, conducted by The Arabia Corporate Social Responsibility Network. This is testament to the organization's CSR, community development and sustainability initiatives all of which work tirelessly to ensure society welfare.
Commenting on these achievements, Dr. Azad Moopen, Founder Chairman and Managing Director, Aster DM Healthcare said: "Aster DM Healthcare started its journey three decades ago- a journey with an aim to provide quality healthcare that is affordable. This aim translates well to the universal healthcare philosophy of Quality, Affordability and Accessibility. Our belief that profit should be a by-product of excellence and not the aim of healthcare resonates with all our initiatives. Our efforts for a better society aim at improving health, education and overall environment, while through our various CSR initiatives we are taking measures to give back to the society and making it sustainable."
Aster DM Healthcare is one of the largest integrated healthcare service providers in the GCC and an emerging healthcare player in India. On its 30th anniversary in 2017, the company launched Aster Volunteers, a global corporate social responsibility initiative that bridges the gap between people who would like to help and those in need. Till date, the programme has touched more than 1 million lives globally.