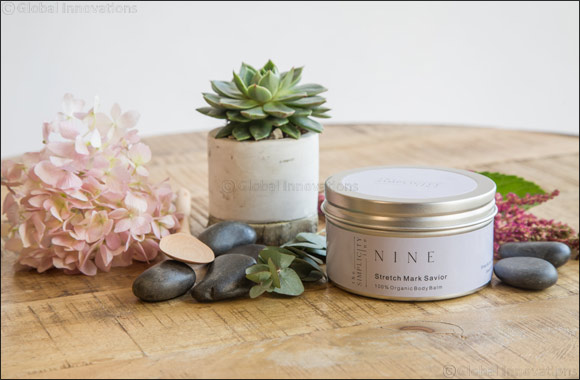 ** NINE Body Balm - a unique skincare savior blended with only nine 100% certified organic ingredients **
Dubai, United Arab Emirates - November 11, 2019: Just as we nourish our bodies with organic food, your skin is also just as important and should be cared for in the best way possible. Many non-organic brands available today are packed full of chemicals from parabens to petroleum waxes which can have a hugely detrimental effect on our bodies. What goes onto your skin, eventually goes into your body. If you slather chemical-filled products onto your skin, over time your body absorbs these toxins.
It was this that led Founder of The Simplicity Line, Karissa Stelma to develop her own range of toxin-free skincare that is 100% natural and organic. The first product in the range, which is set to become a true cult must-have is the NINE Stretch Mark Savior, a rich and luxurious body balm containing nine ingredients, each chosen for their healing and nourishing qualities. A mix of shea, mango, cocoa butter, beeswax, olive oil, rosehip oil, pomegranate seed oil, frankincense and helichrysum, NINE Body Balm deeply conditions and hydrates the skin, locks in moisture and works to keep your skin happy and healthy. If you suffer from stretchmarks, the balm when used over time can help to minimize them.
A true versatile multi-use product, NINE Body Balm is suitable for all skin types and is designed for everyday use. Simply rub the NINE Body Balm onto your skin post bath or shower, or even throughout the day when your skin needs a little pick-me-up.
Founder Karissa Stelma became invested in the power of natural ingredients when she was pregnant with her first daughter in 2010. Karissa experimented with her own formulas and after a personal and challenging journey of IVF in 2018, she truly took stock of exactly what was affecting her fertility as well as anything touching her skin. Karissa became attuned to the importance of ingredients and the impact they have of the journey of fertility – from the foods she ate to every product that touched her skin. It was this that inspired her to launch The Simplicity Line, to help other women who are concerned for their skin, their health and their fertility.
Nine Stretch Mark Savior is priced at AED 130 for 100g, AED 220 for 200g and AED 300 for 300g and is available online at www.thesimplicityline.com. To find out more and to place an order please visit www.thesimplicityline.com. Keep up to date with the latest Simplicity Line news and happenings on social media @the_simplicity_line.