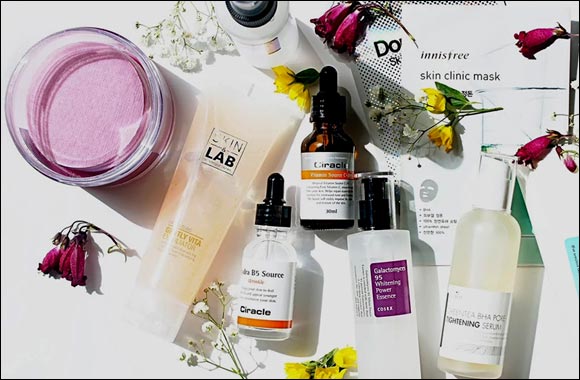 The hype around Korean skincare and beauty products has been apparent in the UAE from a long time. From teenagers to women, everyone seems to swear by these products.
'It is almost miraculous' exclaims a teenager who was suffering from acne scars. She proclaims it took 3 months to renew her skin and confidence, just by adopting the Korean skincare products.
The beauty industry is never resting. There is always a revolutionary product or practice that is waiting to make it big. Similarly, Korean skincare industry has the world captivated, with its effective and helpful products.
And, while many people in the UAE were looking for authentic Korean beauty products, Chicsta, an online platform, was working towards ending the search once and for all.
What is Chicsta?
Chicsta is a leading e-commerce brand for Korean skincare products and accessories in the UAE. Based out of Dubai, it is owned by Ruchika Singh who's a K-Pop aficionado herself.
Chicsta deals with an exclusive range of Korean skincare and K-beauty products. They have partnered with some of the big Korean brands like CosRx, Some by mi, Neogen, Heimish, Laneige, Innisfree, Tonymoly, Missha, Benton etc.
But, Chicsta is not just limited to Korean skincare; they also aim at building an influential K-pop and K-drama obsessed community in the UAE where people can find fellows with common interests.
You can get a variety of Korean skincare and beauty products on their website, from the very famous Snail Truecica Serum + 30 Days Miracle Starter Kit to the cute lip tints, hand creams, and even foot masks.
What makes Chicsta stand out?
We know that the Korean beauty market is extremely competitive. There is always someone new who is making their entry into this industry. However, there are quite a few points that make Chicsta a unique and favourite among their customers.
The most standout point is that they bring the products shipped directly from Korea which increases customer satisfaction and trust. What can be more satisfying than laying your hands on the authentic range of Korean skincare?
They also have the largest collection of K-beauty and skincare products which otherwise, can't be seen anywhere else in the country unless someone decides to outsource it.
Chicsta's very helpful and enthusiastic customer service is something that sets them apart from everyone else. Drop them your skin queries in the inbox and, one of their K-Beauty experts gets in touch with you in no time.
What can I buy on Chicsta?
The shorter answer would be 'Everything in the Korean Skincare & Beauty range' but let's break down the various categories that Chicsta offers.
They have cleansers, toners, exfoliators, moisturizers, serums, essences, sheet masks, sun screens, face masks, eye creams, eye masks, lip masks, hand and foot mask, body care essentials, and K-Beauty products as well.
From finding your favourite shade of lip tint to your most suitable skin serum, Chicsta has an array of products that are waiting to be discovered by you.
If you are someone who's exploring the Korean skincare world or who wants to stay updated with the K-pop culture, The Chicsta Blog is your go-to place.
Follow Chicsta @chicstame to keep yourself updated with their offers and newly launched products.