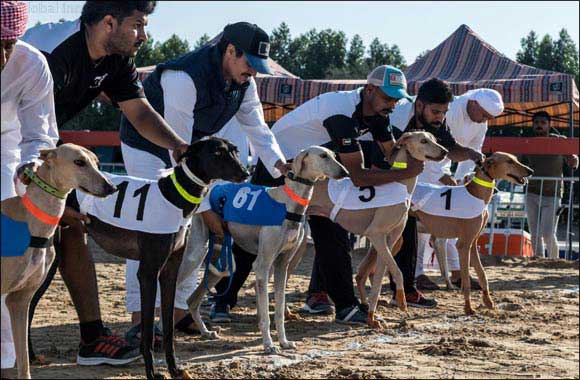 Dubai, 29 January 2020: The qualifying rounds for the Saluki Championship concluded on Tuesday at Dubai's Al Marmoom racetrack. A total of 60 Salukis (race hounds) have qualified for the championship rounds which will take place on February 20.

Organised by the Hamdan Bin Mohammed Heritage Center (HHC), hundreds of Salukis participated in the qualifying rounds that took place for two days on January 27 and 28. The categories were divided into Professionals and Amateurs and divided into male and female Salukis, covering the race distances of 1km and 2.5 Km.

A large number of enthusiasts and spectators of the traditional sport have come to watch the races. Saluki race is one of the championships aimed at safeguarding the cultural heritage of the country and to motivate the present generation to preserve and promote the UAE's cultural and social heritage.

Souad Ibrahim Darwish, Director of Championships at HHC, commented: 'We are pleased to have witnessed a new level of expertise in managing and organizing one of the most popular competitions on the Center's agenda. With the Saluki race matches held in the past few days, we have raised the level of customer satisfaction of the Saluki owners, who have come from across the UAE and GCC to compete. This doubles our responsibilities to provide the best services and we look forward to organizing the finals on February 20".

‪For his part, Juma Al Muhairi, the Head of Saluki Championship at HHC, said: "The championship marked a debut for more than 25 Saluki owners from KSA in addition to new comers from the UAE and GCC countries. Having more contestants from abroad is a great experience for competitors and marks a real festival of preserving the Salukis."‬

"The committee has also made an innovation in the competition by launching the use of a robotic gazelle," he added.
‪‬
Turki Al Harithy, from KSA, said: "It was my second time to participate here, and I loved the organization and the ease to of registration. I have a lot of Salukis in KSA and I wish we have the same organized competitions back home. I was lucky and my Salukis have qualified for the finals. I am accompanying a large group of Saudis whose passion remains hunting with dogs".