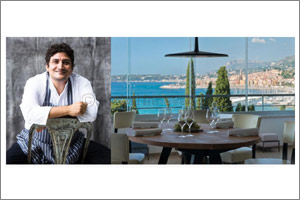 Picking the best restaurant to eat in can be tricky both at home and abroad. Trusting the advice of experts and food lovers who understand every destination's dining scene is always your best bet. Experts know you care about the ambience, service, views, and vibe just as much as you care about the meal.

Gourmets take a bite, savour the morsel with eyes closed, taste every paste, spice, herb, and oil, and volunteer little details that escape common taste buds. Foodies, on the other hand, derive pleasure from trying every edible thing (as long as it doesn't bite back).

As a result, gourmets and foodies know where to go for the best version of any food – from tiny restaurants off the beaten track to local joints in the hood, and fine dining Michelin-starred restaurants.

These guys and other connoisseurs of good food like you are always voting for the best restaurants in the world,
and according to the results, these are the winners…

Top destinations boasting the best restaurants in the world


Wolfgat (Paternoster, South Africa)


Paternoster casts a spell on visitors—the going is easy, but leaving is not. An achingly beautiful landscape featuring long white dreamy beaches, a rich history evidenced by countless attractions, 224 bird species, kayaking adventures, Cape Columbine Nature Reserve hiking experience, and mouth-watering cuisines at Wolfgat cave restaurant will all tempt you to overstay your trip.

According to the majority of the 100 judges from 'World Restaurants Awards', Wolfgat is the Best Restaurant in the World culinary-wise and the Best Off-Map Destination. Wolfgat's a natural chamber under a huge calcrete shelf which resulted from underground stream erosion.


Piazza Duomo (Alba, Italy)


When most people think of a perfect retreat in the countryside, Italy comes to mind. Most visits feature a tour of Rome, but savvy travellers head to medieval cities like Umbria, Tuscany, and Latium for more. However, Alba is every food lover's top Italian destination.

Matter of fact, it's famously known as "The gourmet capital of Piedmont". Luckily, Alba offers more: medieval towers, a relaxed atmosphere, fine wine (especially in April during the Vinum Wine Festival), white truffles, and chocolate.
When you visit Alba, eat at Piazza Duomo to understand why they earned three stars from the Michelin Guide, and bagged awards at L'Espresso Restaurants in Italy, and Gambero Rosso Italian Restaurants' awards in 2019. This is after ranking 16th on 'The World's 50 Best Restaurants' and bagging other awards in 2018.
Schloss Schauenstein (Fürstenau, Switzerland)
As glacial lakes, Swiss Alps, stunning landscapes, and picturesque cities place Switzerland among the world's most beautiful countries, Schloss Schauenstein restaurant in Fürstenau Municipality lifts Switzerland's cuisine banner advertising it as a gastronomy destination.
While the Swiss food scene features regional influences
which include talian, German, and French cuisines, there's an array of Swiss specialties that you should try, and according to The World's 50 Best Restaurants team, Schloss Schauenstein is Switzerland's gastronomic heaven.
As you indulge though, remember, "All types of food cost around 78% more in Switzerland than in the EU." - Eurostat.
Mirazur (Menton, France)

Mauro Colagreco, Mirazur, Courtesy theworlds50best.com
It doesn't come as a surprise that this is the best restaurant in the whole wide world in 2019, does it? The New York Times saw this coming when it listed Mirazur among the 'Top 10 Restaurants around the Globe to Keep an Eye On'.

There's no doubt Mauro Colagreco was born to cook—you'll agree when you taste his cooking! Just six months after opening Mirazur's doors, he was named 'Revelation of the Year' by the Gault & Millau guide, and then a few months down the road, he received his first Michelin star. Since then, Mauro has been receiving awards as a chef and with the team at Mirazur.

Considering what awaits you at Mirazur restaurant, it'd be understandable if you wake up one day and out of the blue, decide to charter a private jet flight to France for a taste of Mauro's 'Pick of The Month'. You'll have random things to do because France has a lot to offer especially in Menton – the pearl of France: dreamy beaches, sun, lush and art-inspired gardens, an alluring seaside medieval city, and more.


Kin Dee (Berlin, Germany)
If you're craving Thai cuisine in Berlin, Dalad Kambhu is thinking about you. When owners of Edd's, Berlin's best Thai restaurant for 17 years, shut its doors and left for Bangkok, Berliners with a taste for Thai food feared they'd have to lower their expectations. However, Kambhu, head chef at Kin Dee, surprised them with her culinary skills and even earned a Michelin star in 2019.

Kambhu is the youngest woman in Germany to receive that accolade and her little secret is making food that is 'homey'. This, using Thailand-sourced vital ingredients from Berlin-based importers, and finding the best alternatives when necessary from Germany, works miracles on the dishes at Kin Dee.
It's your turn!
These are just five out of countless restaurants around the world that are well deserving of awards. If you've eaten in one of them, rate it in the comment section and, if you think there's an undiscovered restaurant with the potential of knocking some of these restaurants off the list… we're curious to know!