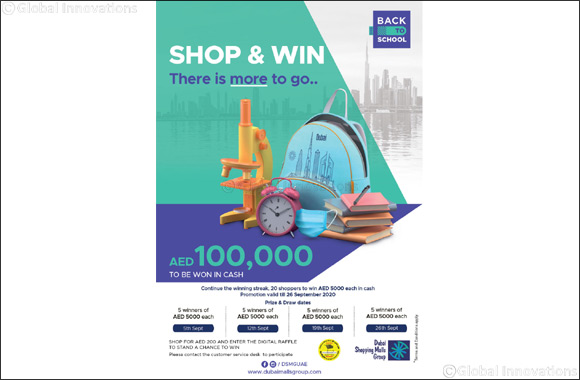 Customers can continue the winning streak with a total of AED 100,000 cash prizes distributed amongst 20 winners
United Arab Emirates, August 31, 2020: In collaboration with Dubai Tourism and Dubai Festivals and Retail Establishment, Dubai Shopping Malls Group (DSMG) celebrates extended dates for the Back to School season. With additional four weeks to this popular retail calendar, participating malls are all set with great deals and more chances to win. Organized as part of 1 Season - 3 Promotions, the upcoming draw weeks will see 20 winners, each winning AED 5000 cash.
All customers shopping for AED 200 can continue to register at the customer service desk of the respective mall and enroll for the digital raffle. Shoppers can watch out for the draws that are being hosted on 5, 12, 19 and 26 September 2020, where lucky few will win a total of AED 100,000 in cash.
The extended season is also aimed at to boost the retail sector, where the customers will also enjoy exciting discounts and offers in addition to their chance with cash through the digital raffle at participating malls across the city.
Commenting on the extended dates, Nancy Ozbek, General Manager, Times Square Center; 'We have always enjoyed being a part of DSMG's promotional campaigns. Times Square Center enjoys a niche loyal clientele primarily comprising of families. Our customers have become accustomed to participating in the promotional campaigns and we have noticed an influx in customer participation, especially this year. We are also grateful to DFRE and DSMG to have hosted some of the raffle draws at our mall and including Times Square Center in all celebrations.'
Shoppers can make the most of the Back to School extended campaign at any of the 17 participating malls. The list of malls include Al Barsha Mall, Al Bustan Centre, Al Ghurair Centre, Arabian Centre, Bin Sougat Centre, Burjuman, City Centre Al Shindagha, City Centre Me'aisem, Dubai Outlet Mall, Etihad Mall, Oasis Mall, Palm Strip Mall, Sunset Mall, Reef Mall, Times Square Center and Uptown Mirdiff.