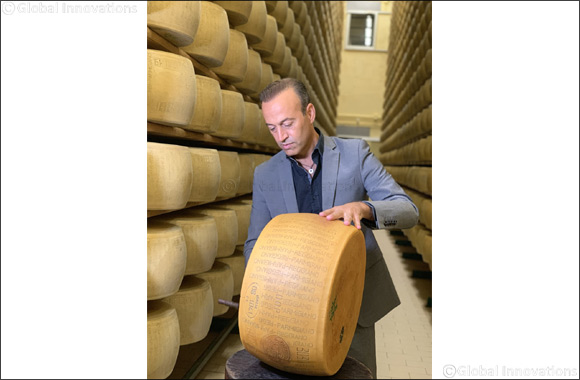 In the first half of 2020 sales of Parmigiano Reggiano in Italy grew by +6.1% year on year. Exports boomed with excellent performances in Europe and in non-EU countries
Dubai, UAE; 02 September 2020: Despite Covid and the uncertainties in international markets, Parmigiano Reggiano cheese sales closed the first half of 2020 with positive results both in Italy and abroad, according to Parmigiano Reggiano Consortium.
Data comes from a survey of the Consorzio Parmigiano Reggiano and the CRPA (Animal Production Research Centre). In Italy the overall increase of sales amounted to 6.1% (34,200 tons vs. 32,000 in the previous semester), abroad exports grew by 11.9%: in the first half of 2020 more than 27,000 tons of product crossed the Italian borders to reach tables all over the world.
2020 has been an exceptional year that has changed the product's export map. In non-EU countries the sales grew by +11.9%: particularly positive performances were recorded in GCC countries (+50.5%).
In the last three years, Parmigiano Reggiano Consortium has invested in developing market potential in the GCC and creating awareness of the difference between Parmigiano Reggiano cheese and the generic 'Parmesan' cheese. This has resulted in more people choosing Parmigiano Reggiano cheese.
The survey also highlighted consumers' favourite forms of Parmigiano Reggiano from across the world. Buyers mostly purchase pre-cut and grated cheese, which grew by 14.7% and 14.2% respectively, whereas sales of whole wheels decreased by 5.9%.
"At a time of crisis and uncertainty, the market has rewarded us," commented Nicola Bertinelli, President of the Consorzio Parmigiano Reggiano. "Data show that our strong brand and solid positioning with consumers has acted as the best vaccine to curb the commercial impacts of Covid. We now need everyone's contribution to protect the product and prevent risks associated with an extremely uncertain autumn both in Italy and abroad. In the first half of 2020 the growth recorded in Italy was +6.1% and exports grew by 11.9%, extremely positive data reported during such a challenging time for our sector"
Bertinelli added that Parmigiano Reggiano achieved excellent performances in terms of sales, but it suffers from an excess of supply that caused the price to drop and resulted in loss of profitability for the producers.

"We are working hard to promptly respond to this crisis. We have essentially implemented three measures. Firstly, the Consortium is going to buy from its 335 dairies no less than 320 thousand wheels (160 thousand in the last four months of 2019 and 160 thousand in the first four months of 2020) in order to rebalance the market. These wheels are going to be stored in warehouses to mature for a longer period of time and then put on the market gradually when getting a fair price
for the product is feasible. It is not the first time that the Consortium purchases wheels to effect price increases: it happened also in 2014-2015. What is unprecedented is that the Consortium will not simply withdraw wheels from the market, but it is going to further reduce the production quotas established for the next three years," Bertinelli concluded.