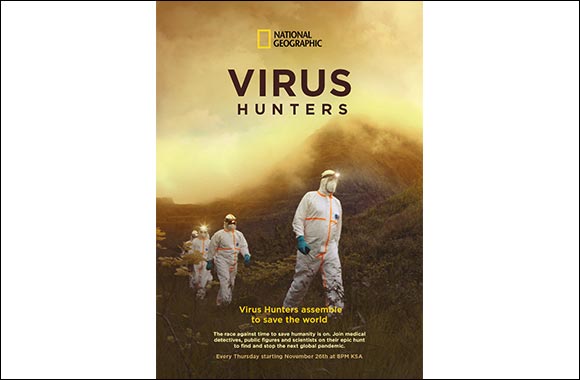 Premiering on National Geographic Channel on November 26 at 9PM UAE/ 8PM KSA TIME


Dubai, UAE – November 22, 2020: With the world gripped by the ongoing COVID-19 crisis, it's not easy to think about what could be next. But those on the front lines of science know the worst could be still to come. So, what can we do to head off the next contagion before it's too late? Around the world, researchers are racing to prevent disaster, and their efforts represent the most critical scientific mission of a generation.

VIRUS HUNTERS premieres on National Geographic Channel on November 26 at 9PM UAE/ 8PM KSA.

With deadly new viruses on the rise and happening more frequently in recent years, National Geographic's VIRUS HUNTERS will reveal the raw and chilling stories of those heroic experts currently searching to identify the chain of events that could cause the next global pandemic.

VIRUS HUNTERS will follow National Geographic fellow, epidemiologist and ecologist Christopher Golden and ABC News foreign correspondent James Longman as they
embark on an epic journey across continents to meet with the brave scientists on a quest to not only understand and stop the COVID-19 outbreak, but also prevent the next deadly pandemic.

With infections and deaths spiking around the world, they will join the urgent fieldwork of these VIRUS HUNTERS who are currently posted at the following potential hot zones: United States, Liberia, Thailand and Turkey.

The chain of events that sets off a pandemic can be broken — remove one domino and you can prevent the loss of millions of lives. Meet our VIRUS HUNTERS at the forefront of science and exploration who are willing to risk it all to unlock these human virus mysteries: Explorer and epidemiologist, Jim Desmond, a wildlife veterinarian and founder of Liberia's Chimpanzee Rescue & Protection NGO and Kendra Phelps, a field scientist at the non-profit EcoHealth Alliance.