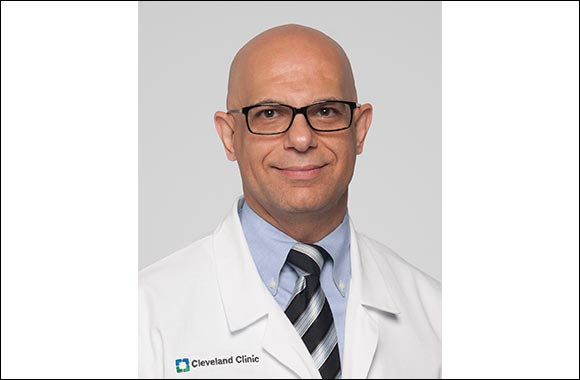 Lung cancer is the most common and deadliest type of cancer if untreated, says expert from American hospital Cleveland Clinic


United Arab Emirates - November 23, 2020: Millions of lung cancer patients could leverage medical advancements in gene targeted therapy and immunotherapy to treat the disease and extend their lives, says an expert at a top American hospital, Cleveland Clinic, marking November's Lung Cancer Awareness Month.
Dr. Khaled Hassan, of the Hematology and Medical Oncology Department at Cleveland Clinic, said: "While lung cancer is the most common and deadliest type of cancer, it's not necessarily a death sentence and could be treated as a chronic disease. Medical innovations in gene targeted therapy and immunotherapy treatments can extend the five-year survival rate to 23 percent, up from 15 percent in the past."

Worldwide, there are 2.09 million lung cancer cases and 1.76 million lung cancer deaths– more deaths than colorectal and breast cancer combined, according to the World Health Organization.

Dr. Hassan emphasizes the importance of early detection, as 80 to 85 percent of lung cancer patients are diagnosed at advanced stage. Surgery, chemotherapy, and radiation therapy continue to be commonplace treatments.

However, gene targeted therapy, with drugs that target specific genetic mutations that contribute to cancer growth, can be useful, especially in patients who are non-smokers but have genetic mutations. There are more than 200 genetic biomarkers for lung cancer, with FDA-approved treatments for seven of them: EGFR, ALK, ROS-1, BRAF, MET, NTRK, and RET.

Immunotherapy treatments can also help people's immune systems to recognize and attack cancerous cells – and can keep attacking them even after the treatment stops.

Smoking is the primary cause of lung cancer. Nearly 90 percent of lung cancers are caused by smoking cigarettes, according to the United States Centers for Disease Control and Prevention (CDC).

Nonsmokers being exposed to secondhand smoke may also increase their risk of getting lung cancer by 20 to 30 percent. Screening is currently recommended for those 55-77 years old, who have smoked one pack or more a day for 30 years, and currently smoke, or have quit within the past 15 years.

"Stopping smoking is the number one way to prevent lung cancer – and patients should immediately stop all forms of smoking: cigarettes, cigars, and shisha," said Dr. Hassan. "Families should talk openly about the risks of smoking, and if they have lung cancer, about the treatment options. Families of the patient should also have their homes tested for radon gas, the second-leading cause of lung cancer."

Lung cancer comes in two-types: non-small cell, which is more common and less aggressive, and small cell, which is less common but spreads quickly.

Lung cancer can be localized within the lungs; regional, spreading to lymph nodes within the chest; or distant, spreading to the rest of the body – especially to the brain, liver, bones, and adrenal gland.

Patients who have sustained symptoms – coughing, shortness of breath, chest pain, or blood in their sputum – should see a doctor for screening immediately, Dr. Hassan stresses.