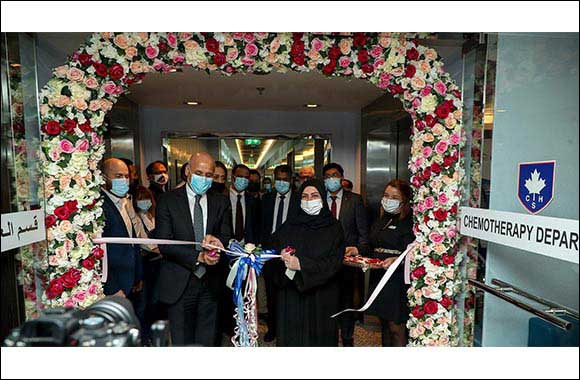 The new clinical model for cancer care will be at par with the best-in-class clinical expertise and medical technologies, provided with personalized care to each patient.
Dubai – Dec 10, 2020: Canadian Specialist Hospital (CSH) announced the opening of a state-of-the-art daycare cancer center in Dubai, in collaboration with India's leading healthcare provider Max Healthcare. This highly specialized advanced center for cancer care will help patients improve their cancer therapy regimens.
Dr Maryam Al Rayssi, CEO of Dubai Hospital, inaugurated the oncology daycare centre in the presence of Mohammad Rashid Al Falasi, Chairman of Canadian Specialist Hospital and other senior officials and medical professionals.
The new care model will be at par with the best-in-class available clinical expertise and medical technologies along with personalized care in an 'un-hospital' like environment so that it can cater to the growing needs of patients in Dubai and its neighborhood. The amenities available at this center are intended to enhance patient experience while undergoing therapy for cancer.
The center will provide treatment to a variety of adult and pediatric cancers such as breast, lung, liver, colon, colorectal, stomach, prostate, brain, leukemia, cervix, kidney, pancreas, esophagus, ovarian sarcomas and other common and rare cancers, among the UAE nationals, residents and medical tourists. The center will soon expand to include surgical oncology services.
Commenting on the oncology center launch, Mohammad Rashid Al Falasi, said, "Canadian Specialist Hospital has been in the forefront of providing quality care to its patients in the UAE and beyond. We are glad to partner with India's healthcare major Max Healthcare to open this unique cancer care wing at our hospital. This is aimed at addressing the need gaps in cancer care in the UAE and the region. We also understand there is urgent need of quality treatment for cancer here. We are committed to meeting the healthcare needs of the UAE local population and residents, offering them a range of advanced treatments through our center of excellence."
Dr. Harit Chaturvedi, Chairman of MICC, said, "We are glad that we will be providing our expertise in Dubai to benefit patients through this unique collaboration. We have started with the medical oncology facility and will eventually extend support by providing surgical oncologists. We, at MICC, understand that a patient's journey from the time of diagnosis and planning to implementation and follow up is a complex process."
"Hence, we offer treatment that involves multiple specialties (Surgical, medical and radiation oncology, molecular oncology, pathology, radiology, palliative oncology, onco-psychology, onco-rehabilitation and so forth), and the best outcome in any patient can be ensured only if all decisions are taken collectively by all specialists involved," he added.
According to Dr Chaturvedi, cancer is a growing disease worldwide. "To make matters worse, the global pandemic has emerged as a nightmare with most patients delaying diagnosis as well as treatment due to the fear attached to contracting the virus. In addition, stalling international travel is also proving costly for many patients who may not have access to advanced treatment modalities in their region."
Operation of the center will be led by Dr Prasanta Das, noted oncologist from Max Health Institute (MHIL). An in-house video conferencing facility will help connecting MHIL specialists to conduct tumor boards from Dubai between the two hospitals. The patients at CSH will have full access to the knowledge, skills and processes of the MICC.
Dr Ankur Bahl, Senior Consultant at MICC will travel to CSH on a regular basis and will be available at the hospital for in-person consultations.
MICC is one of the largest cancer services in North India, serving over 100,000 out patients and 15,000 in patients annually. MICC has over 90 oncologists and 30 patient navigators. MICC is one of the first healthcare providers to segregate organ-based treatment modalities called Disease Management Groups (DMGs).
Canadian Specialist Hospital is the institution of choice for referrals from small and medium-sized medical centers for specialized diagnostic and treatments.