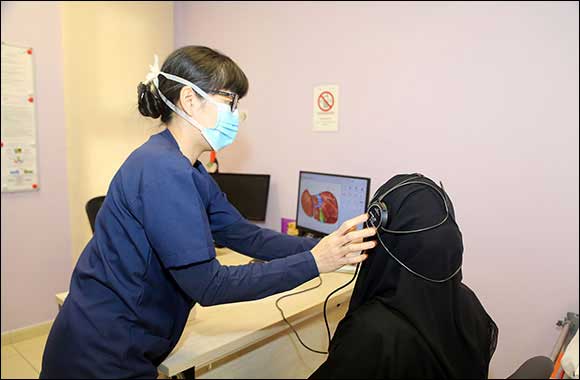 Dubai, UAE, December 15, 2020: The Dubai Health Authority's (DHA) Dubai Complementary Medicine Centre (DCMC) revealed that 4,055 patients benefited from its services in 2019.
DCMC is the only government centre in the GCC to provide comprehensive complementary medicine services.
Out of the 4,055 patients, 2,732 benefited from the centre's ozone clinic, 805 from the bio resonance clinic and 518 from the metatron clinic.
Complementary medicine has many benefits as it mostly involves natural remedies, helps boosts the immune system, reduces pain, reduces muscular spasm and fatigue and improves patient's overall quality of life.

Dr. Ahmed Ibrahim Bin Kalban, CEO of Hospital Services Sector at the DHA said, "The centre is equipped with the latest state-of-the-art technology and with skilled cadres to ensure the provision of quality services to meet customer's expectations. The centre recorded a 91% patient happiness rate and a 95% patient satisfaction rate."

He added that the centre received the International Customer Experience Standard ICXS2019:01 last year.
Bin Kalban said that DCMC provides ozone therapy, bio resonance therapy and metatron therapy services to treat disease like diabetes mellitus & diabetic foot, hypertension, rheumatoid arthritis, multiple sclerosis, chronic fatigue syndrome, adjuvant to chemotherapy, hypothyroidism, inflammatory bowel disease, parkinson's disease, disc herniation (cervical, lumbar ),joint arthritis and muscular spasm, to name a few.

He highlighted that the Ozone therapy is the most requested service at the centre. The Ozone Medical Therapy Clinic provides various treatments using medical ozone gas according to the health condition of the patient.

The Metatron clinic, diagnoses and treats various ailments using Metatron waves, magnetic light waves and also focuses on nutrition therapy, physical therapy and nutritional supplements to stimulate the healing process in the body.
The Bio Resonance Clinic uses electromagnetic wave technology to measure the frequencies of tissues and organs in the body for the purpose of diagnosis and stimulating self-healing.

Bin Kalban said the centre will add more services in 2021.