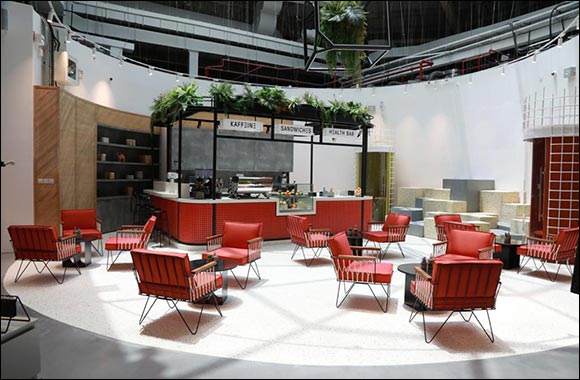 • Dubai favourite, AROUND THE BLOCK, is now serving specialty coffee and sweet treats inside THAT Concept Store at Mall of the Emirates
• It joins THAT Concept Store's other innovative eateries, UCHI M'OISHÎ and Number FiftySeven
Dubai, United Arab Emirates, May 20, 2021: THAT Concept Store is a hub for experience-driven individuals keen to explore new styles, designs and tastes. As well as offering a range of delicious bites, it houses a hair salon, a nail bar, a designated barber shop, and even a fitness studio in collaboration with BARE fitness.
With its signature roasts, energy shots and sweet treats, AROUND THE BLOCK has opened a new location on the second floor of THAT Concept Store. The cool and creative KAFFEINE concept has had guests queuing around the block in Jumeirah and is now set to deliver the same extraordinary service and contemporary vibes at Mall of the Emirates.
AROUND THE BLOCK's innovative design style is highlighted by neon yellow signage, bright red chairs, and fluorescent, square chandeliers. The atmosphere is the perfect combination of vibrancy and chill, with well-known favourites from its espresso bar on the menu as well as an array of interesting brews, detox juices, mocktails, smoothies and homemade desserts.
A coffee bar for those on the go means that anyone tiring of shopping from THAT Concept Store's specially curated collection of over 150 luxury brands can instantly renew their energy levels with a delicious beverage. Specialty blends are also available to purchase for those wishing to recreate the experience at home.
AROUND THE BLOCK unites with UCHI M'OISHÎ on the first floor and Number FiftySeven on the second level as part of THAT Concept Store's food and beverage offerings. This means that everyone can now enjoy specialty coffee blends, exciting Japanese fusion and mouth-watering cuisine without having to leave the one-stop-shop.