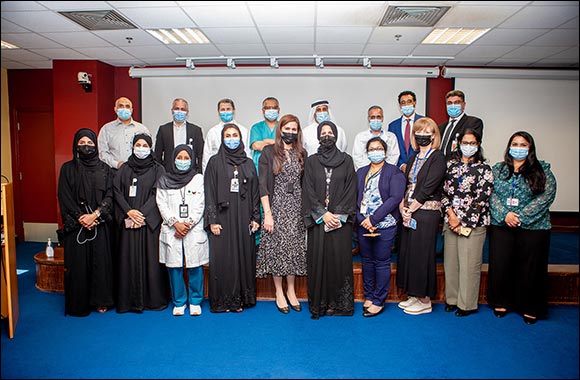 The SEHA-affiliated facility is the first in the UAE to obtain the JCI certification for the second time with 99.5 per cent compliance score

Abu Dhabi - 21, June 2021: Tawam Hospital, part of Abu Dhabi Health Services Company, (SEHA), the UAE's largest healthcare network, is the first center in the country to become recertified with the Joint Commission International (JCI) Clinical Care Program Certification (CCPC) for 6 Oncology Programs, following its initial certification in 2017. The CCPC recognition is rewarded to facilities that are already JCI-approved and that provide general medical care and excel at a defined care service.
Renowned for its comprehensive cancer care, Tawam Hospital received the CCPC endorsement in 2017 and recertification in 2021 for six cancer programs, namely Breast, Cervix, Colon, Lung, Prostate and Rectum.
During the evaluation, surveyors explore the facility's international patient safety goals, program leadership and management, delivery of clinical care, support of self-management for patients and caregivers, clinical information management, and performance, measurement, and improvement, with a total of 46 standards and 184 measurable elements against each cancer program. Out of the total 184 measurable elements for each program, Tawam Hospital successfully met 183 with the remaining 1 partially met, resulting in a compliance score of 99.5 per cent.
Saeed Jaber Al Kuwait, Chief Executive Officer, Tawam Hospital, said: "We are very proud to maintain our leading position in the UAE's healthcare landscape as the first facility to firstly receive the Golden Seal of Approval certification in 2017 for oncology services and then be recognized again this year. Such acknowledgements reassure us that we are moving in the right direction, ensuring excellence in care is delivered to everyone who walks through our doors, irrespective of whether their medical need is general or specialized. Being able to respond to the demands of a more defined patient population demonstrates our ability to remain agile and customize our approach, within a clearly defined set of compliance and safety standards."
Tawam Hospital received its initial Joint Commission International (JCI) accreditation in 2006, and since then continues to meet the JCI's symbol of quality that reflects the facility's commitment to providing safe and effective patient care. JCI's hospital standards are developed in consultation with worldwide healthcare experts and providers, measurement experts, and patients. The standards are informed by scientific literature and expert consensus to help organizations measure, assess, and improve performance.