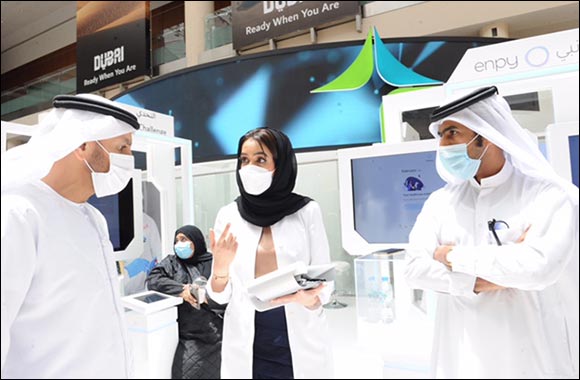 June 23, 2021: DHA has signed a MoU with Enpy, a Dubai-based Medical Technology company specialising in Artificial Intelligence and healthcare innovation having developed a patented first of its kind all-in-one solution for preventive healthcare monitoring at home.
The solution consists of a patented non-invasive medical device measuring 6-vital signs including a 12-leads ECG that is connected with a smartphone/tablet application powered by Artificial Intelligence algorithms analysing health trends and potential symptoms to provide immediate relevant healthcare guidance to patients at home.
Dubai, United Arab Emirates, 23 June 2021: In an endeavour to integrate and provide advanced innovative solutions in the field of smart preventive healthcare, the Dubai Health Authority (DHA) has signed an MOU with Enpy, a Medical Technology company specialising in artificial Intelligence and healthcare innovation.
In line with DHA's strategic direction, the journey started through the Innovation Center as the project evolved through various steps from ethical approval, regulatory steps, selection of PHC's, successful clinical trials and proof-of-concept.
Enpy has developed a first of its kind all-in-one solution for preventive healthcare monitoring. This holistic solution stems from the unique design of a patented and clinically validated non-invasive medical device measuring 6-vitals (i.e. 12-leads ECG, blood pressure, heart rate, temperature, blood oxygen saturation and respiratory rate) in less than two minutes without the need of any medical assistance.
This medical device is connected with the Enpy app, which will automatically save all patient's vital signs taken over time in a unique medical record, which can greatly help the doctor at the time of consultation. Moreover, the app is powered by Artificial Intelligence algorithms developed internally by doctors, mathematicians and engineers to analyse the health trends of the patient through time.
Patients can also request an assessment of their symptoms on the app at any time. The AI avatar will then present the patient with a series of medical questions to evaluate and inform patients on the most likely causes of their current clinical condition with an associated severity level. As such, the AI avatar will inform patients as to whether they might require immediate medical assistance based on their symptoms that are complemented with their vitals measured through time.

A double-blind clinical study was conducted by DHA and Enpy to evaluate the efficiency of both the medical device and the symptom checker respectively. The medical device demonstrated a matching accuracy for the medical device when compared with hospital-grade equipment measuring collectively the same 6 vital signs.
Furthermore, the AI-powered symptom checker of the Enpy app demonstrated a 92.78% accuracy when compared with the medical diagnosis provided by doctors.
Dr Manal Taryam, CEO of Primary Healthcare at the DHA said: "For the last few years, DHA has significantly focused on implementing healthcare technologies across all its verticals with an aim to improve efficiencies across health services, support physicians and technicians and most importantly to further improve patient-centered care. Remote monitoring technologies help empower patients so that they have access to monitoring tools that can help them keep track of their health. This leads to better at-home care of patients, fewer complications and thus fewer emergency visits. Moreover, such tracking devices help alert patients of an emergency where immediate medical intervention is needed. In terms of the medical staff, it provides them with regular at-home patient medical data which can be taken into consideration at the time of diagnosis; therefore it's a win-win for both doctors and patients."
Sam Taleb, Chairman of Enpy said: " We embarked on making advanced AI based preventive healthcare easily accessible to all, and through the unique collaboration we have with the DHA and the Dubai Health Innovation Center, our joint efforts have led to the first-of-its-kind AI Health Companion from both a quantitative and qualitative angle. We would like to extend our thanks to the DHA innovation Centre for their support and collaboration as Enpy developed its AI preventive health technology with DHA being our launch partner in this unique initiative aimed to empower patients. We are extremely delighted with the progress made to-date and proud to contribute towards the great Innovation and Artificial Intelligence Hub that Dubai has become. '
Rashed AlShaali, Board Member of Enpy said: 'We are very happy with the team's collective effort and our partnership with DHA to achieving such results and even happier to see it coming out of Dubai."
Mai Dosari, Director of Health Innovation Centre at the DHA added: "Innovation is vital to the growth and development of the healthcare industry and economy worldwide. DHA's role was important to facilitate a regulatory and research environment to ensure the safety of its patients in line with local legislative frameworks, while providing a platform for innovative solutions such as the project we have been working on with Enpy."
By leveraging the continuous stream of vast amounts of health data generated by the Enpy solution across the population into highly valuable medical information, doctors and medical institutions can treat patients more efficiently by delivering high-quality and time-efficient diagnoses for their patients. This is also a catalyst to accelerating healthcare programmes towards a prevention-based approach by designing new healthcare measures based on real-time health analytics of the population; opening the door to a new era of smart preventive healthcare in the realm of public health.