The evergreen cultural influx that you can breathe in Dubai is something unique in the entire world. This city in the heart of the Middle East isn't only made of luxury malls and extraordinary city lights overnight. It's an all-inclusive place where you can enjoy art, shopping at all levels, visit futuristic neighborhoods, and plan a trip to the desert.
In a city where fresh-water fountains seem to appear and disappear beyond each corner of its giant buildings, it may not sound a good idea to go exploring the desert region. But Dubai is made of this, as well. The desert on the edge of this city is part of it not less than its 5-star majestic hotels.
Incredible Things That Only Dubai Can Offer Tourists
If you are tired of the same vacation packages and you are just looking for something really new, Dubai is the perfect place to visit. Here, you can discover how wonderful this planet is and the uniqueness of this hot spot in the Middle East.
Before you start figuring out what you can do during your vacation in Dubai, make sure not to miss the following tourism idea: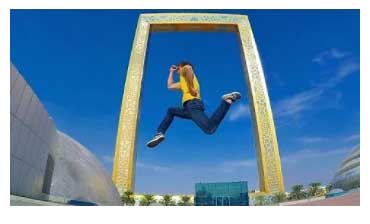 The world's largest picture framedubai frame
We all know that Dubai is the capital of all those things that are simply unthinkable elsewhere, but probably the Dubai Frame will please you with unforgettable photo shoots. This is actually the largest photo frame on the planet. It's about 500 feet tall and it encompasses a fantastic city view. Have fun taking pictures of yourself or your friends into the famous Dubai Frame.
An all-ages theme park
The Global Village in Dubai is another great reason to stop one more in the city and explore this dreamy fancy world made of several themed parks all in one place. Although most rides look childish, there are also many adult-dedicated rides to try. The Global Village includes also many shops to buy souvenirs and typical items to bring back home after your vacation.
Crazy entertainment at esports arenasesports arena in the Middle eEast
Arabs are probably the world's most fervent and excited sports fans. Their interest and attention to anything coming new in the sports and entertainment fields have no parallel. One of the best experiences you may want to try in the UAE is to visit an esports arena. As an alternative, you can also check these online esports arenas in Dubai and feel a true Saudi sports rush. Each arena hosts many professional players who play for different teams, the atmosphere is absolutely amazing. Some Arabs also like testing their prediction skills by placing real-money bets on their favorite players. Who will win the next prize? Just find it out following esports arena events online!
See a camel race
Not everyone in the world loves watching horse races... after all, when you live in a country with camels, it's pretty obvious to see camel races. Al Marmoom is the most popular camel race track. Historically speaking, there is evidence of the first camel races in the 7th century. Anyway, it's one of the most typical traits of Middle Eastern culture. You'll have a lot of fun, it's guaranteed!
You can even ski in Dubai
Didn't you know that you can even experience skiing in Dubai? Does it sound impossible? Well, get ready to know that it's not only possible, but it's one of the most preferred entertainment options for many Arabs. Of course, it's an indoor ski slope and it's located in a mall in the desert. It's the world's third-largest ski slope. If you want to include this new experience in your vacation plan, just book your ticket. There are also some rides in the mall for extra fun.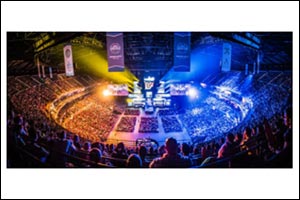 Feel like in Miami but you are in Dubai
Dubai has it all, no doubt. If you haven't enough camel races in the desert and indoor skiing, you can still enjoy kiteboard challenges at the beach of Dubai. It will give you the same impression of being in Miami. Dozens of colored kites cross the crystal-clear waters in front of Dubai's best beach. Also, you can join volleyball or run on the beach, there are so many activities to do for tourists.
Get it spicy!
If you haven't already got familiar with the local cuisine, plan a stop at Dubai's spice market to taste some of the typical flavors of this corner of the world. You'll see so many vendors at the market, most of them sell Persian dried limes, barberries, rose hips, saffron, smelly original mixes of Middle Eastern spices. Keep in mind to add to your food only a very small amount of spices.
Finally, don't miss to walk and wander through the mazy small districts of the city, especially those that are a little outside the city center: it's where you can enjoy all the flavors and lifestyle of locals.