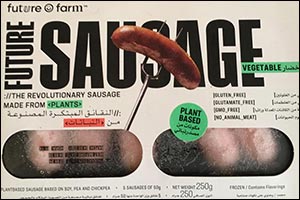 FreshToHome is an e-commerce platform and App in the UAE that delivers fresh groceries essentials in UAE, all at affordable prices and great quality.
FTH's exclusive and pocket-friendly vegan range is vast consisting Baba Ganoush, Hummus, Muhammara, Spicy Hummus and Taratour.
I got to review Plant-based meat alternatives from their vast Vegan range. TBH I am a meat lover but this Vegan range changed my opinion!
FreshToHome was very kind to send me the following;
Vegetable Dumplings
Vegetable Dumplings or fondly called as 'Momos' are my favorite. It can be fried, steamed or boiled. I prefer the steamed ones. It turned out very delicious along with the garlic dip that was sent along with it.
Future Meatball
Future Meatball was a very succulent and easy to make dish. All one have to do is sauté it, within 5-8 minutes it is ready to eat with rice, salad, dips or as it is.
Future Mince
Future Mince is made using Soy. All you need to do is season it with your favorite spices and cook on a pre-heated pan till you receive the taste and consistency you prefer. I made it in Bombay Street Style and it turned out lip-smacking! I have shared the pictures but it does not justify the taste.
Future Burger
Future Burger is a made using Soy but you will not find it any different than the chicken burgers. it comes in a pack of two.
Future Sausage
Future Sausage were so juicy and ridiculously real! I just popped it in the airfryer and within five minutes they were a great breakfast along with bun, sauce and pickle.
Future Meat is the future. The texture and taste is similar to meat so a great option for people who want to switch to Veganism without having to compromise on the taste.
All of the above are;
Easy to cook
GMO free
Gluten free
Antibiotics free
Cholesterol free
Preservative free
Fillers and synthetic additives free.
In conclusion I can confidently say that I will definitely keep my Vegan option open as long as I am able to shop from FreshToHome!