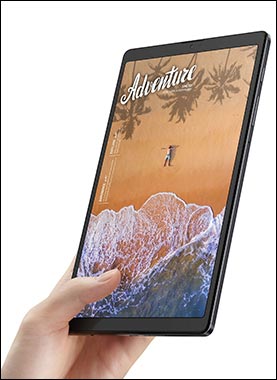 In today's fast-paced world, consumers are searching for innovations that offer value in various ways. With home, work, and play all part of daily life for millions, demands and expectations have never been higher for devices that delight users in each of these areas – providing flexibility, versatility, and empowerment. For lovers of Samsung's tablet portfolio, these advantages have most recently been presented in the form of the Galaxy Tab A7 Lite, which has set a new benchmark in world-class tablet experiences and received notable praise from the tech and customer communities.
Whether users are looking to work remotely, connect with friends, play games, or watch content, the Galaxy Tab A7 Lite is the perfect tech companion in each of these scenarios, capable of keeping pace with one's busy lifestyle while supporting productivity, connectivity, and personal enjoyment. In fact, the winning combination of compact design, intuitive features, and industry-leading technology has brought new meaning to portable performance.
No matter the task or activity in personal or professional life, consumers can perform efficiently and effectively on-the-go to make the most of every moment. What's more, they can do so without spending beyond their means because the Galaxy Tab A7 Lite is just as much affordable as it is portable and empowering. Here, we outline why this next-generation tablet stands alone in terms of portable performance and personal empowerment:
Incredible durable screen: Engineered for budget-oriented consumers without compromising on a world-class tablet experience, the Galaxy Tab A7 Lite is the new number one choice for on-the-go gaming and content consumption. Compact and empowering, the 8.7-inch screen has been combined with a durable metal cover to ensure users benefit from complete portability.
Immersive interactions: Whether you're gaming or watching videos, movies, or shows, immersion is guaranteed with slim bezels around the display and dual speakers with Dolby Atmos for complete concentration and enjoyment. Additionally, the octa-core processor supports smooth gameplay with speed, while the product is also available in silver and gray to provide an elegant appearance in line with today's lifestyle trends.
Increased convenience: The Galaxy Tab A7 Lite provides users with a unique slim package. Measuring a thin 8.0mm and weighing 371g, the highly portable tablet packs easily into one's bag and doesn't offer the heavy feeling associated with other tablets. What's more, a long-lasting battery further complements the Galaxy Tab A7 Lite experience as work, home, and play experiences will not be cut short. The charger provided in the box also supports 7.75W charging, while 15W adaptive fast charging can also be utilized daily when purchased separately.
Camera and storage capabilities: For those looking to share their world around them, the Galaxy Tab A7 Lite camera is ready to capture and share your moment. Whether someone is looking to capture stunning portraits or breathtaking scenery, this device has you covered with an 8MP main camera to ensure memories stay vivid, bright, and clear. Additionally, every user can store more of what they love. The tablet comes with 32GB storage built in for all hi-resolution videos, photos and files. Users can also expand this valuable room with a microSD card for even more storage – up to 1TB – which means storing more and deleting less.