Dubai – 11, September 2021: Aras Group opens the first franchise of the famous German restaurant "Haval Grill" "Koftespieß, Aryan & Chill" in the presence of the international rapper "Xatar" and social media influencers from all over the world.
Haval Grill is located in Dubai, on Jumeirah Street and it is the first franchise of this chain outside Germany in the GCC region, Middle East, North Africa and South Asia.

'Haval Grill' offers the most delicious dishes and grilled kebab sandwiches with two types of meat and chicken, which are cooked with a special secret mixture, and served with three different sauces: mango sauce, haval sauce, and bbq sauce to satisfy all tastes. The restaurant is also serving Haval Grill falafel with salad and french fries, and to complete the delicious taste Ayran Laban is served with meals to add freshness and a wonderful taste.

"We thank all the guests who shared with us the joy of opening our first franchise in Dubai and we are pleased to be the first who bring this restaurant to the GCC and the Middle East to enjoy unparalleled dining experience' said Ashraf Mahmoud, Chairman of the Aras Group.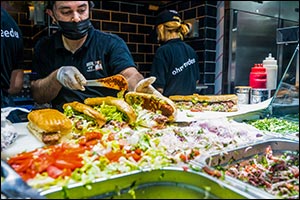 Aras Group is seeking to expand by opening more branches of the famous German restaurant 'Haval Grill' all over the Emirates during the coming period.
"The cooperation of the German Haval Grill Restaurant with Aras Group is a great addition for us especially during this period that the UAE is witnessing the launch of Expo 2020 Dubai" said by the international rapper "Xatar".

The ownership of the 'Haval Grill' restaurant belongs to the famous German rapper Xatar, who opened several branches in Germany in several cities such as Bonn, Essen and in Munich. Because of the high demand for the Kofta and falafel dishes, he even produced frozen versions of these and distributed them to supermarkets to make it easy for everyone to have a taste of Haval Grill.