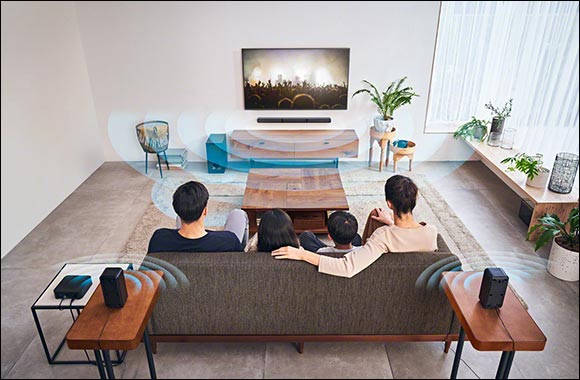 September 27, 2021: Staying in is the new going out today! Nothing spells happiness quite like family time at home – with a great movie or the latest sitcom, or a game. And the feeling is global. In one internet minute, approximately 404,444 hours of Netflix content was streamed by users worldwide , while the video on demand revenue reached a whopping $61 billion in 2020 .
This season, upgrade your sofa and screen set up to be a stylish and sleek home theatre.
The Basics
Start with the right soundbar to create a rich soundscape that puts you bang in the middle of the action. With SONY sound bars, you could discover a new level of immersive, cinematic audio at home. For example, the SONY Dolby Atmos offers breathtaking three-dimensional surround sound.
For an exceptional audio experience, a combination of soundbar, subwoofer and wireless rear speakers deliver a dynamic surround sound that fills your room. The SONY 5.1ch Home Cinema with Wireless Rear Speakers HT-S40R soundbar, which comes with 600W output and Dolby Digital® transports you into the heart of the action.
With the soundbar installed, connect it with the television using the Audio Return Channel feature. Another option is to connect it using the optical digital cable, the coaxial digital cable or the Audio Cable.

Audiophiles could also consider a subwoofer – a specialised loudspeaker that reproduces the extreme low frequencies present in movies or music. To choose the right subwoofer, consider the size of the room and whether it is carpeted or insulated.
Now for the centerpiece of the home theatre – the television. The highly acclaimed SONY BRAVIA XR, which is also the first in the world with cognitive intelligence, offers the perfect mix of picture and sound. Powered by Cognitive Processor XR, the BRAVIA XR uses a completely new processing method that goes beyond conventional AI, designed to replicate the ways humans see and hear. Sony's line up of 8K LED and 4K LED televisions deliver an immersive viewing experience, while adding a chic note to home interiors with its gentle minimalism.
The Sony BRAVIA XR A90J is a premium 4K OLED TVs from the Master Series delivering unparalleled picture quality that produces perfect blacks and a near-infinite contrast ratio. The XRA90J TV delivers exceptional picture quality great for movies and TV shows. It also has near-instantaneous response time for smooth and clear motion for sports and video games. The most immersive experience is realised through enhanced picture quality, slim design and Sound-from-Picture Reality™, which aligns the position of the sound with the images on the screen offering a uniquely lifelike experience.
The nice to haves
Each device in a home entertainment system comes with its own remote, which increases clutter and confusion. Invest in a universal remote. You could also control your home entertainment system with your phone using a mobile remote-control app.
Some apps work with several product brands and models, while others are tied to specific brands. Another option is voice control using Alexa and Google Assistant technologies through Amazon Echo and Google Home smart speakers.
Alternatively, a home theatre can be operated using the TV remote control when the devices are connected with an HDMI® cable and the control for HDMI function is enabled.
Surge protectors are the unsung heroes of a home entertainment system. Although these devices aren't foolproof, surge protection safeguards against a sudden power outage or brownout that may affect your system. If you want to monitor and regulate your power usage, consider a power conditioner.
Dimmable lighting will enhance the ambience of your home entertainment and dramatically increase movie-watching enjoyment. If the light switch can't have a dimmer, consider black out shades to improve acoustics and viewing experience.
The best home entertainment system balances aesthetics, function and space planning. With some tweaks and the right products, anyone can achieve the perfect set up.