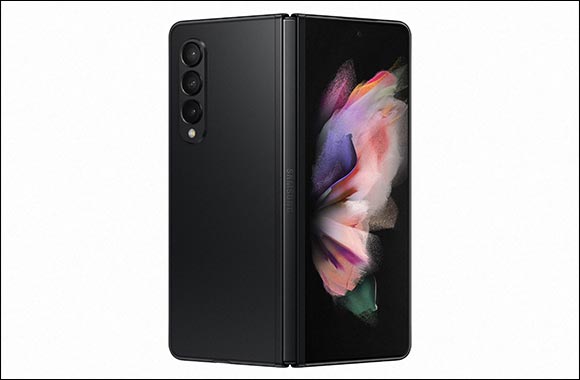 September 27, 2021: Empowerment and innovation are what excite millions of smartphone enthusiasts – and understandably so. Every year, new next-generation devices are released for the masses to immerse themselves; and every year, efforts to set new standards in the tech world provide fans with even bigger and better capabilities that surpass their demands and expectations. Most recently, this tradition came to pass with the release of the Galaxy Z Fold3, the premium smartphone that introduced users to a whole other level of professional performance.
Backed by expert craftsmanship, innovative features, the latest technologies, and a host of key improvements, the Galaxy Z Fold3 has lived up to its billing as the next chapter in foldable smartphone innovation. The device has brought new meaning to versatility and flexibility, optimizing experiences like never before to present the Galaxy Ecosystem community with entirely different and unique ways to work, watch, play, and capture the world around them.
Samsung understands that consumer lifestyles are entwined personally and professionally. Therefore, the Galaxy Z Fold3 delivers value in all life's aspects – at home, in the office, out with friends, moving between places. Here, we explain the features and functionalities that have come together to ensure all users can work, play, and capture like a pro with the Galaxy Z Fold3:
Channel your creativity, whatever you are doing
The Galaxy Z Fold3's arrival was monumental for several reasons, and one of these was Samsung's much-loved Note series technology making its way to the Galaxy Z Series. More specifically, the next-generation S Pen provides Galaxy Z Fold3 users seeking to work using device with an advantageous opportunity. Through optimized S Pen features on their foldable screen, on-the-go multitaskers can take notes during a video call, online seminars and lecturers, or as they read emails and other pieces of content. In fact, you can also channel your creativity through two S Pen options: S Pen Fold Edition and S Pen Pro. Both feature a specially engineered retractable Pro tip with force limit technology to protect the Main Screen for peace of mind while using the S Pen, and both offer low latency for true-to-life composition. Simply put, notetaking and working are seamless, intuitive, easier, and more enjoyable.
Immerse yourself when gaming and watching content
Theater-like viewing experiences are a sure thing with the Galaxy Z Fold3 thanks to the irresistible combination of an uninterrupted 7.6-inch Infinity Flex Display and Samsung's new Under display camera technology – which ensures you stay fully engaged in every gaming and entertainment adventure. With minimum pixels applied on top of the camera hole, Z Fold3 features an increased viewable area for an unbroken canvas when using your favorite apps and playing your favorite mobile games. What's more, new Eco display technology has been integrated with the device, which is 29% brighter while consuming less energy. And to add the finishing touches to an already flawless experience, scrolling and quick device interaction are even more seamless with the Super Smooth 120Hz adaptive refresh rate on both the Main and Cover Screens.
Shoot epic shots with enhanced camera features
Cameras are a 'must have' for every consumer, and this is why Samsung has brought enhanced features to the Galaxy Z Fold3; so you can take epic pictures and capture the world around you even more effortlessly and effectively. The most prominent is 'Capture View,' with which you can examine, delete, and share pictures you have just taken without going into the Gallery app. After launching the camera, click the capture view icon in the upper-left of the screen. If you take pictures while the icon is illuminated, you can check the pictures captured on the left half of the screen. Pressing and holding on a picture allows you to conveniently delete or share images, which comes in handy for both getting rid of the poor shots and sharing the good ones with friends. In addition, this is of great help when trying to capture the perfect picture of fast-moving subjects, such as family, friends, pets, or people playing sports.
Feel the full power of multitasking with Flex mode
Thanks to enhanced Flex mode features accompanying the Galaxy Z Fold3, doing more on-the-go has never been more rewarding. With the new Taskbar, you can quickly switch between apps without returning to the Home Screen, which means productivity will not be hindered between working, reading, writing, and learning. With the Flex mode itself, you can join video calls, watch informative content, or read learning materials on the top half of the screen while checking notes and writing things down on the bottom. And with the updated Multi-Active Window, it's even easier to check your calendar and transition between apps.
*The S Pen is not included in the Galaxy Z Fold3 5G box but can be purchased separately in brand shops or through authorized online channels.