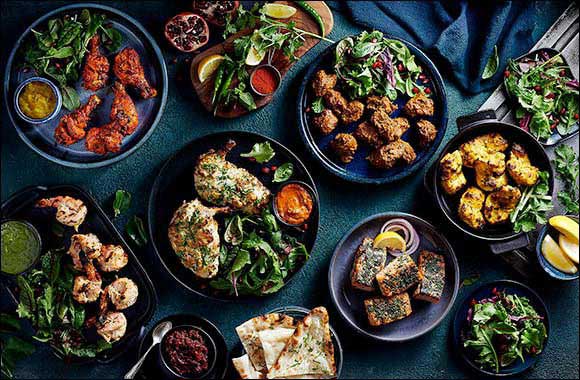 January 13, 2022: Enjoy Zafran Indian Bistro's Jashn-e-Kebab (a Celebration of Kebabs) on the outdoor terrace now open 7 days a week at their Dubai Marina Mall outlet.
This limited-edition menu features an assortment of succulent vegetarian and non-vegetarian kebabs, made using only high-quality ingredients and seasoned with home-ground spices. Taking inspiration from a variety of cuisines but employing classic culinary techniques and authentic flavours, this is not your average kebab menu but one where the inventiveness of the Zafran chefs is on full display.

The one-of-a-kind chicken specialties include Bhuni Tangri, Cajun-spiced drumsticks, Murgh Nawabi Tikka, char-grilled tender chicken breast in a delectable Zafran spices, labneh and yellow chili powder marinade and the Murgh Badami Kebab, cooked in a delightful mix of almond, lemon, coriander, ginger, garlic, labneh and cream.

With the meat options, the chefs have added their unique touch to classics such as Patiala Tawa Mutton, boneless lamb cubes in a black pepper, turmeric, chili, ginger and yogurt marinade and the signature Hyderabadi Lamb Shank, served with a puff of smoke and much fanfare by the chef himself.
Vegetarians will enjoy digging into a plate of the Lucknowi Tikka, deep-fried potato, beetroot and Colocasia patties served on toasted bread and garnished with onion pakora rings and pomegranate.
The Kaffir Nimbu Malai Jhinge is a prawn dish that really packs a punch, with its distinct flavours of kaffir lime leaves, labneh, coriander and black pepper. Looking for something a little light on the spice but equally satisfying? The Dill and Garlic Salmon Tikka is a must-try!
Dining with a group of friends or the family? You can't go wrong with Jashn-e-Kebab's exotic sharing platter – the Royal Feast, which combines the chicken, lamb and seafood kebabs in one spectacular spread.
So rest assured that whether you head to Zafran's flagship outlet in Mirdif City Centre or enjoy a meal al fresco on the Zafran Marina Mall terrace, complete with a beautiful view of the Dubai Marina, Jashn-e-Kebab is just the party your palate needs this season.

Jashn-e-Kebab will be available from now until 31st January at Zafran in Dubai Marina Mall and Mirdif City Centre. The restaurants are open to guests for lunch as well as dinner from 12 pm – 11 pm on weekdays and 12 pm – 12 am on weekends. To make a reservation please call: 056 188 4739 (Mirdif City Centre) or 054 994 2435 (Dubai Marina Mall). For added convenience Zafran offers a take-out and delivery service as well and is on Deliveroo, Talabat and Zomato.