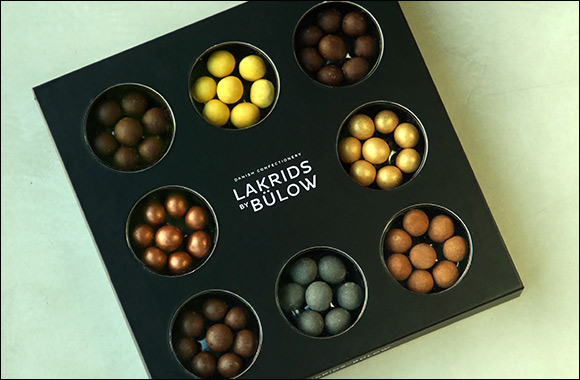 Add a twist to your traditional Eid celebrations with the gourmet liquorice brand
If you are looking for a way to treat you and your loved ones for Eid, why not try LAKRIDS BY BÜLOW. The premium liquorice brand is perfect when it comes to sharing with the people you love the most. The SELECTION BOX offers some of the most exquisite flavours created by the Danish confectionery. They will for sure lead you to the tastiest experience.
The SELECTION BOX is the perfect gift option this Eid and will not fail at bringing your loved ones together. The range of products available includes the initial creations of chocolate-coated gourmet liquorice; the B - PASSION FRUIT captivates your taste buds with the acidity of the passion fruit, the sweetness of the white chocolate and the ability of the liquorice to unite these flavours. The irresistible D - SALTED CARAMEL is a winning combination of salted caramel and sweet liquorice. This edition is a sweet liquorice covered in caramelized dulce chocolate – flavoured with crunchy flakes of sea salt.
The SELECTION BOX includes two of the exclusive flavours launched specifically in the Middle East, Z - BRONZE and W - GOLD. Z - BRONZE, one of the best sellers in Dubai, creates a winning combination of sweet liquorice, caramelized dulce chocolate and crispy sea salt dusted in bronze powder. W - The GOLD edition has built its own reputation by combining the sweetness of white chocolate and the tartness of raspberries with delicious, sweet liquorice, all dusted in gold.
This Eid treat you and your loved ones in the best liquorice way with LAKRIDS BY BÜLOW. The one-of-a-kind experience the Danish brand brings to the party will make this Eid one to remember.
LAKRIDS BY BÜLOW is available at the flagship store in The Dubai Mall and online on Deliveroo.
SELECTION BOX: AED 170
LAKRIDS BY BÜLOW locations:
• The Dubai Mall
• Dubai Marina Mall
• Atlantis Hotel Dubai
• Online: Deliveroo