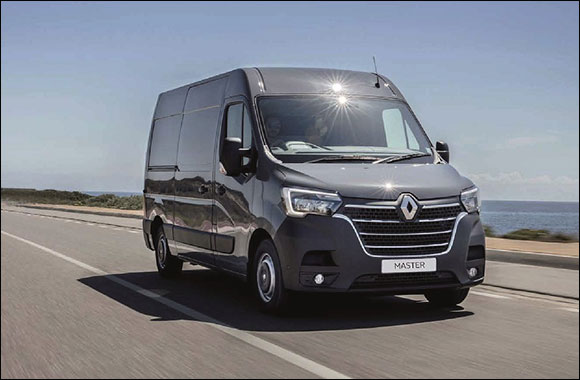 An ideal business partner is reliable in challenging situations and can share the burdens and comforts of everyday business with you. This is what the Renault Master can do for you: more than just another van, it is intricately designed to tend to your business needs and assist you wherever your trade journey takes you.

With you, wherever you go:
What sets Renault Master apart from its peers is its ability to perform well. Whether you're cashing a delivery deadline or have a sudden extra load to transfer, the Renault Master comes with an exceptional range of features that set it apart from other panel vans and chassis cabs. Available in both front and rear-wheel drive versions, you don't need to fear the load or the road when you are driving the Master.

For ease of doing business:
The cabin of the van is crafted with office space on the move in mind. It offers you optimal visibility, ergonomic controls, and an adjustable driver's position, dotted with handy storage compartments and optimized air-conditioning with sound insulation to maintain the ease of doing business.
If you're not moving around, you can use Renault Master as your office space. The van features a rotating tablet holder that can be turned into a work desk and ample interior storage space to place your working tools on. It's an office on the move!

The freedom of choice:
The power of variety is evident in the new Renault Master that comes in three length and height variations. The payload you get goes up to 2,040 kg in the panel van version and 2,435 kg in the chassis cab version, which means you get to carry with you whatever your business requires.

The overall comfort:
Renault Master is as much about performance and reliability as it is about comfort. The interiors are designed to ensure that long journeys become enjoyable and fun.
Featuring a range of layouts, with loading volumes of up to 17 m3, the Renault Master is all you need to level-up your business aspirations.

Advanced features for advanced safety:
The van takes care of the passengers with advanced features, such as passenger airbags, ABS brakes & ESP, and cruise control with a speed limiter, with a rear-view camera to keep an eye on everything around. Add to it the latest generation of ESP, extended grip, and hill-start assist, and you're ready for smooth rides on all terrains.
For those seeking a picture-perfect business partner, the Renault Master can be test-driven from your nearest Arabian Automobile showroom in Dubai, Sharjah and the Northern Emirates.