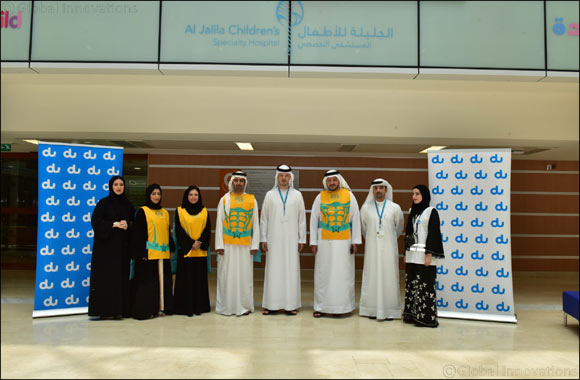 du continues to spread happiness throughout the UAE in line with #KeepOnGiving
Dubai, UAE, 14 June 2018: In line with its #KeepOnGiving initiative, du volunteers recently visited Al Jalila Children's Hospital. Led by Abdulwahed Juma, Executive Vice President Brand & Corporate Communications at du, the volunteers engaged the children and distributed Eid gifts throughout the wards.
"Social responsibility is woven through the rich fabric of our society, and as an Emirati company we endeavour to empower our people to make a difference through a variety of du initiatives that encourage giving and volunteering," said Juma. "Our visit to the Al Jalila Children's Hospital this morning was mutually beneficial as we helped spread happiness through the wards, we were in turn intrinsically rewarded by witnessing the joy of the children as they unwrapped their Eid gifts. We would like to wish all the people of the UAE Eid Mubarak."
This visit is just one among many du #KeepOnGiving initiatives, which has reached several segments of UAE's community. Throughout the Holy Month of Ramadan, du has encouraged volunteers from all walks of life to join its Mawaed Al Rahman initiative and distribute Iftar ingredients to thousands of underprivileged families across the UAE. Additionally, du has also connected loved ones through surprise air tickets, and has joined the Community Development Authority's 'Their Suhoor On Us' initiative.