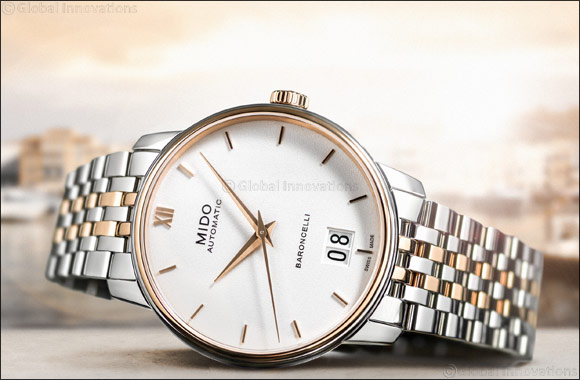 Dubai, UAE, August 15, 2018: A new version of the Big Date joins the classic Baroncelli collection. To celebrate its 100th anniversary, Mido has endowed the watch with a large date aperture, with the timepiece powered by its exclusive Caliber 80 movement.

Equipped with a superb round polished steel case, enhanced with an elegant double gadroon bezel, the Baroncelli Big Date stands out due to its large two-level date aperture at six o'clock.

In keeping with the rest of the Baroncelli collection, this new model instantly catches the eye with its exceptionally refined design, as seen in subtle details such as the grained dial and double-sided hands.

The Baroque-influenced neoclassical style of Milan's Galleria Vittorio Emanuele II expresses all the sophistication inherent to Italian architectural tradition. It was from these refined, rounded forms that Mido drew its inspiration for the Baroncelli. The subtle references to this prestigious building and its harmonious curves bestow both a rare sense of elegance and a resolutely timeless style on this iconic collection, which celebrated its 40th anniversary in 2016.

To mark the key date of its 100th anniversary, Mido is launching a series of original timepieces, equipped with a large date aperture and powered by its exclusive Caliber 80 movement.

The watches priced at AED 426 are available at Hour Choice stores across the UAE and online.