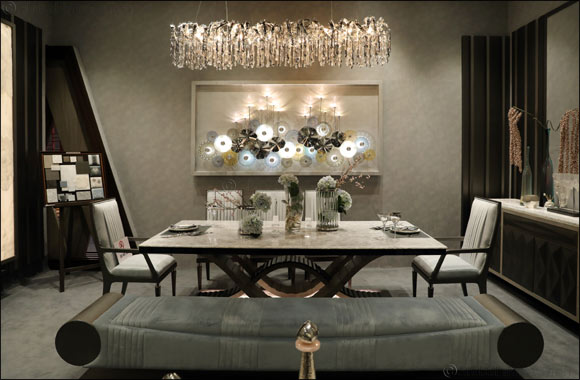 Dubai, UAE, March 26, 2019: With spring comes a new opportunity to revitalise your home. And what better way, than to explore all the sumptuous colours that Spring has in store. Composed of rich, deep hues alongside lighter warm and cool neutrals, this year's colour collection is a modern version of old-school elegance and refinement. A selection of dark hues expresses a worldly, exotic yet heritage aesthetic, with fairer, softer options providing balance. Below Anjali Goel, Head of Design at La Sorogeeka Associates, shares her recommendations for the colour trends to inspire you this Spring.
Deep rich green is both decadent as a feature colour and versatile as a neutral when paired with an accent wall. A front door and shutters painted in deep rich green make a classic statement against brick or stucco, set off with metallic hardware and finishing touches.
Start with lighter neutrals like silky off-white as an overall wall colour, then add a luxurious, bolder colour with fresh blue teal or wild geranium as an accent wall, repeating the colour elsewhere in your decor scheme to confidently express an intentional colour choice.
Spice up a monochromatic-leaning colour scheme with the addition of a single, brightly coloured element - treat night tables to a captivating coat of yellow-to-deep-orange squash.
Pastel dusty pink is the perfect shade to add a touch of femininity to an otherwise masculine colour scheme, and we should be seeing a lot of this colour throughout 2019.
Add a touch of modern sophistication to a bathroom by updating with a coat of alluring and reflective liquid metal over the top of an egg-shell white, a beautiful complement to earthy cane on the walls.