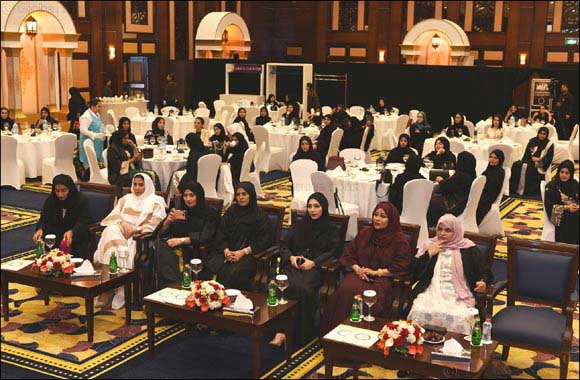 Dubai, United Arab Emirates - May 18, 2019: Dubai Customs organized a Suhur gathering for female government employees; the first of its kind among government departments in Dubai. The event took place at Al Multaqa Ballroom, Dubai World Trade Center.
The female Suhur gathering is an initiative by the Dubai Customs Women's Committee to be the first event of its kind targeting government female employees in Dubai with the objective of enhancing ties and positive interaction between female employees in different government departments.
The event included a lecture entitled "The Foundation of the Happy UAE Home" delivered by Abdul Rahman Al Mulla, from the Islamic Affairs and Charitable Activities in Dubai (IACAD) and Dr. Abdul Aziz Al Hammadi, Director of Family Cohesion Department at Community Development Authority. There were also a number of games and contests in the event.
"This gathering is an occasion for all government female employees to meet and network outside working hours which leads not only to exchange of ideas but also more solidarity and social cohesion," Mariam Khalifa Al-Shamsi, Head of the Women's Committee at Dubai Customs said. "It's an opportunity to raise awareness around the importance of social responsibility and shared work with other private and public entities.'
The gathering, Mariam pointed out, aimed at unifying efforts and enhancing team spirit among government departments.
In conjunction with the event, a cash donation campaign took place, which targeted the orphans, and used clothes campaign was launched in which Dubai Customs will host the donation using boxes made available by the Human Appeal International.