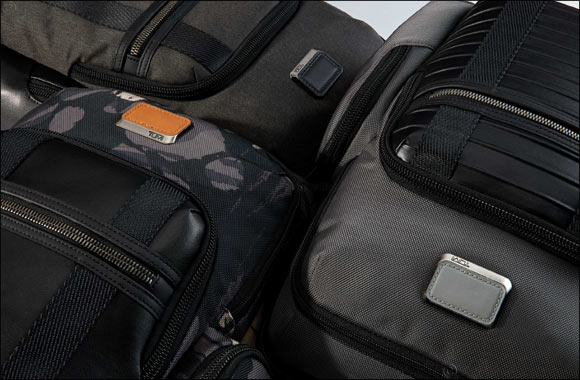 Dubai, United Arab Emirates - May 20, 2019: With Father's Day approaching, take this opportunity to get dad a gift he'll never forget. While shopping for dad is no easy task, TUMI travel, business and lifestyle bags and accessories are a perfect choice to give your father a seamless life on the move. No matter where your dad is going, a TUMI is the quintessential travel companion on his journey.
This Father's Day, the versatile Alpha Bravo collection brings you rugged yet refined pieces that are specifically designed to accompany you from the office to the outdoors and beyond. With exceptional functionality and stylish design, explore the Alpha Bravo collection for the perfect gift.
Alpha Bravo London Roll Top Backpack in Grey/Embossed
Alpha Bravo Sheppard Deluxe Brief Pack® in Grey/Embossed
Alpha Bravo Nellis Backpack in Grey/Embossed
For a dad who appreciates the latest fashion, the Alpha Bravo Grey/Embossed colorway is the perfect cutting-edge shade. The modern grey neutral features unique embossing on the front of the bags, presenting a sophisticated look dads will love.
With enough space to comfortably fit his laptop and all the clothes he needs, the London Roll Top is the ideal backpack for your dad's short business trip.
With special dedicated compartments and a front pocket with waterproof lining and air vent, there is a place for all of your dad's belongings. An all-in-one bag fit for the dad who is always on the go, the impressive Sheppard Deluxe Brief Pack® is the ideal medium size backpack that's easily carried with a webbing top carry handle and comfortable adjustable straps.
A contemporary and functional backpack, the Nellis Backpack features a separate compartment for storing your dad's important papers and files, as well as a hidden magnetic strap that allows quick access to whatever he needs.
Irwin Duffel in Black
Irwin Duffel in Navy
Perfect for work or day trips, the new Irwin Duffel is known for its sturdiness, style and assorted compartments. With two U-shaped pockets ideal for storing small items, a quick access back-zip pocket, and full depth zipper pockets integrated into the top foldover flaps, the Irwin Duffel is best for the dad who loves to stay organized with a multitude of compartments. With a waterproof lined pocket for a water bottle or umbrella and internal features including card pockets, a pen loop and key leash, the Irwin Duffel is versatility at its best.
Alpha Bravo Wright Top Lid Backpack in Black
From on-the-go meetings to out-of-town adventures, the Wright Top Lid Backpack is an ideal companion. Featuring a front flap pocket with removable speed clip and padded compartments to keep your dad's laptop or tablet safe, the Wright Top Lid includes a variety of internal and external pockets for your dad to effortlessly manage all his essentials. With a TUMI Personalization Kit, you can also personalize the Wright Top Lid Backpack with accents in a range of colors - pick a custom shade that best suits your dad's style.
Columbus Utility Pouch in Black
Columbus Utility Pouch in Grey Highlands Print
Small, compact and edgy, the Columbus Utility Pouch is a stylish yet practical choice. Originally designed to be clipped around the waist, our modernized utility pouch is also readily worn across the body. Easily accessible, well-placed pockets make sure your dad finds everything he needs with great ease.
Reno Kit in Black
Reno Kit in Grey Highlands Print
A classic travel kit with a modern twist, the Reno kit is designed to fit perfectly in your dad's travel bag, sit on the hotel bathroom counter or hang from a fixture whilst travelling. Fitted with a front straight zip pocket and a back slip pocket, the Reno Kit features a special antibacterial lining to help keep your dad's belongings free from germs.
Enjoy exploring the Alpha Bravo collection and discover the ideal gift your dad will cherish using.