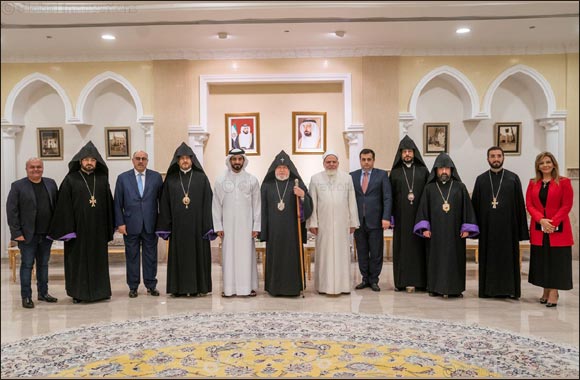 Addressing Sharjah Ramadan Majlis, Global Spiritual Leader Thanks Sharjah Ruler for His Generosity and Kindness to Armenians; Lauds Historical Arab-armenian Relations
Dubai, United Arab Emirates - May 21, 2019: His Holiness Karekin II, Supreme Patriarch and Catholicos of All Armenians, last night lauded the UAE leadership for its historical championing of respect and acceptance for all religious communities and Highness Sheikh Dr Sultan bin Mohamed Al Qasimi, Supreme Council Member and Ruler of Sharjah, in particular for his kindness and generosity to the Armenian Christian community in the Emirate.
Addressing a packed house at the special session of Sharjah Ramadan Majlis on "Religious Divergence…Humanity's Convergence" at Al Majaz Amphitheatre Monday night, the supreme spiritual leader of the global Armenian community congratulated the UAE leadership and people for developing a global model of peaceful coexistence and acceptance.

HH Karekin II paid rich tributes to the UAE's founding father Sheikh Zayed bin Sultan al Nahyan for his all-embracing vision and leadership that has enabled and guided the UAE to emerge as a much-admired global model of respect for all religious communities and the spirit of peace, mutual understanding and dialogue.

Sharjah Ruler's Gesture to Armenians
The Supreme Armenian Patriarch profusely thanked and lauded His Highness Sheikh Dr Sultan bin Mohamed Al Qasimi, Supreme Council Member and Ruler of Sharjah, for the love and generosity he has showered on the Armenian community living in Sharjah granting it the permission to build its own beautiful church in Sharjah, one of the first to be built in the Emirate and the UAE. The Patriarch also revealed that HH the Ruler of Sharjah, during a visit to Armenia in 2006, had ordered the rebuilding of a historical Christian monastery in the country.

HH Karekin II hailed the historically close and robust relations between the Arabs and Armenians going back centuries when Armenian refugees, fleeing persecution, suffering and genocide elsewhere, had found protection and sanctuary in a number of countries in the Middle East. Even today there are thousands of Armenians living in peace and security across the Arab world, he added. He referred to the Blue Mosque in the Armenian capital Yerevan that remains a symbol of historical Armenian-Muslim relations.

Underscoring the shared roots of humanity, the Patriarch said that all men and women are related to each other through blood and are part of one human family that belongs to God. Pointing out that, according to Bible, Man has been created in the image of God, he called for respecting and accepting each other underscoring it as the key to a peaceful society.

He said acceptance means recognising equal rights and respect for all. "The holiest principle of humanity is acceptance of others and peaceful coexistence. The ethical source of acceptance is ever-timely. It is a continuous conversation between members of human family," he added. The Patriarch said: "We are all cohabitants and children in the house of god, this world. Love, peace, mutual understanding and cooperation can make this stay memorable and meaningful."
Condemning religious extremism and terrorism in strongest terms, HH Karekin II said that it is dangerous and unacceptable to present conflicts in religious light to pursue political goals.

Islamic Model of Acceptance
Speaking on the occasion, Dr Rashad Salem, distinguished Islamic scholar and Chancellor of Al Qasimia University of Sharjah, welcomed and complimented the Armenian Patriarch on his message of love and peace emphasising that Islam sees humanity as one family of God.
Quoting a famous verse from the Holy Quran ("O mankind, indeed We have created you from male and female and made you peoples and tribes that you may know one another. - 49:13)," Dr Salem said that Allah repeatedly addresses humanity as 'O people' or 'O mankind' and stresses that men and women have been created from one man and woman and divided into different tribes and nations so they live in peaceful co-existence, and not fight.

The Chancellor cited the earliest model of peaceful coexistence and acceptance that Prophet Muhammad, peace be upon him, offered to the world as the Treaty of Medina, offering peace and security to religious minorities living in Muslim lands. Dr Salem emphasised that the Prophet, pbuh, was sent as mercy and blessing to the whole of mankind and not just to Muslims. He stressed the common roots of Islam, Christianity and Judaism saying the three monotheistic religions stem from the same source and preach the same message of love, peace and acceptance.

He recalled the historic sanctuary given to a group of Muslims, fleeing persecution in Makkah in the early years of Islam, by Christian King Negus (Al Najashi) of Abyssinia on the request of Prophet Muhammad, pbuh. Describing humanity as one human family and fraternity, the Chancellor said that Islam preaches respect for all religions and their followers. The Quran urges peaceful coexistence and acceptance of each other's beliefs and differences saying "To You Your Religion and To Me Mine (Qur'an 109:1-6).

Hailing the UAE model of peaceful coexistence and acceptance, Dr Salem stressed that this country had been established as a model of peace, diversity and coexistence.

The fourth session of the Sharjah Ramadan Majlis was attended by Sheikh Sultan bin Ahmed Al Qasimi, Chairman of Sharjah Media Council, HE Tariq Saeed Allay, Director of Sharjah Government Media Bureau, HE Hassan Yaqoub Al Mansouri, Secretary General of the Sharjah Media Council and a number of other sheikhs, dignitaries and officials. The session was moderated by TV presenter Ibrahim Almedfaa. The Sharjah Ramadan Majlis is hosted by Sharjah Press Club of Sharjah Government Media Bureau.