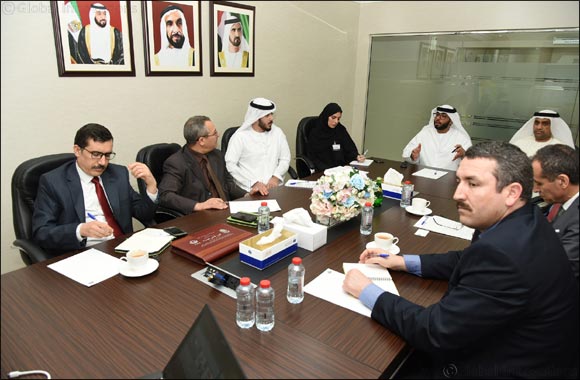 Dubai, United Arab Emirates - May 25, 2019: An Algerian delegation has recently visited Dubai Customs to view its experience in the risk engine, K9 Unit, and Riise; the new disruptive project of Customs World.
The Algerian delegation included Boutaleb Redouane, Director of Resource Department, Boudadi Smail, Director of Transport and Information Center, and Samir Boumati, Director General of DP World Port in Algeria. The delegates were received by Nadya Abdullah Al Kamali, CEO of Customs World, Eng. Adel Al Suwaidi, Director of Technical Support Department, Daoud Al Zarouni, and Senior Manager of Intelligence Data Management Section.
Nadya Abdullah Al Kamali, CEO of Customs World delivered a presentation about RIISE to the Algerian officials.
RIISE, the new platform, will be rolled out globally to empower different countries with a cost-effective and sustainable customs system that allows them to effectively and transparently manage core customs activities and conduct trade in the global market. The disruptive system has been developed as a flexible, plug-and-play solution that can be deployed and customized based on the customer's requirements. The new system is expected to raise the ranking of the UAE and the countries that will use it on the global indexes, increase revenues, facilitate trade and secure borders and the supply chain.
The visitors also learnt about the Smart Risk Engine and its role in risk management and the K9 Unit which plays an essential role in inspection and support to air, sea and land customs centers. Eng. Adel Al Suwaidi presented the Unit's experience of training its 24 dogs. This coupled with the inspectors' vigilance and their experience in body language and their dedication help fight all types of smuggling.
The Algerian delegates praised the advanced level Dubai Customs reached in facilitating legitimate trade and combating smuggling, and invited for more cooperation and exchange of information and expertise in the future.