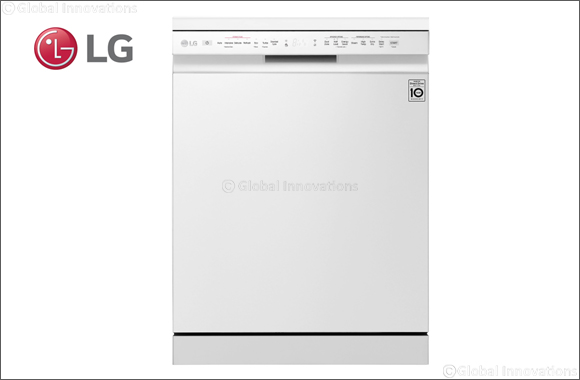 Company's New Dishwasher Promises Thorough and Hygienic Cleaning with TrueSteam™ and QuadWash™
Dubai, United Arab Emirates - 22 July 2019: LG Electronics (LG) is setting new standards with its latest LG QuadWash™ Steam dishwasher with TrueSteam™ technology. In addition to the company's exclusive TrueSteam™ system, the revolutionary product employs a number of unique performance-enhancing technologies to guarantee more effective and efficient cleaning.
The company recently presented its new QuadWash™ dishwasher to a group of attendees during the LG Home Appliance & Air Solution Press Tour in Seoul, South Korea. During the demonstration, LG highlighted its TrueSteam™ technology, which generates high-temperature steam particles to clean everything from delicate stemware to steel pots and pans, easily separating stains and leftovers from dishes.
The technology helps loosen tough caked-on food before the main washing cycle, and activates again after its completion to reduce the occurrence of undesirable water spots – one of the most common complaints of dishwasher users – by up to 30 percent.1 LG's steam-power tech utilizes hot, pure steam particles to deliver impeccable cleaning results and a greater level of hygiene, satisfying consumer demands for a safer, more sanitary performance.
Another of LG's impressive core technologies, QuadWash™ uses four spray arms, instead of the two found in most dishwashers, to raise the bar for dishwashing excellence. The multi-motion arms sweep and rotate back and forth while spinning in both directions, cleaning plates, glassware, and cookware of all shapes and sizes from nearly every angle. Thanks to multi-directional water streams shot from the arms' spinning attachments, no dish is left with unsightly stains or residue.
The dishwasher also offers outstanding flexibility and convenience with the EasyRack™ Plus system adjusting to just about any type of kitchenware, even long-stem wine glasses. With a single touch, the height of the upper rack can be changed to one of three levels. LG SmartThinQ™ technology further elevates the functionality of the dishwasher to make daily life easier, while the handy LG SmartThinQ™ app lets users monitor cycle times and even receive alerts when cleaning is completed. Additionally, new wash cycles can be downloaded for a variety of specialized washing needs, including Pots & Pans, Casseroles, Glassware and Night Care.
On top of these outstanding features, the LG QuadWash™ Steam dishwasher boasts the Inverter Direct Drive Motor, which boosts energy efficiency and reduces noise for a pleasantly quiet, more cost-effective performance. The motor can also adjust water intensity, allowing the delicate settings necessary for fragile dishware placed in the upper rack, and for the stronger cleaning required for pots and pans in the lower level. This enables the dishwasher to provide maximum versatility and more comprehensive cleaning without causing damage to dishware.
"LG QuadWash™ Steam dishwasher offers everything consumers expect from an LG appliance: convenience, flexibility and outstanding performance," said Song Dae-hyun, president of LG Electronics Home Appliance & Air Solution Company. "Steam technology offers the perfect balance of powerful cleaning and gentle care, and is a prime example of LG's ability to deliver innovation that brings practical and convenience-boosting benefits to our customers."