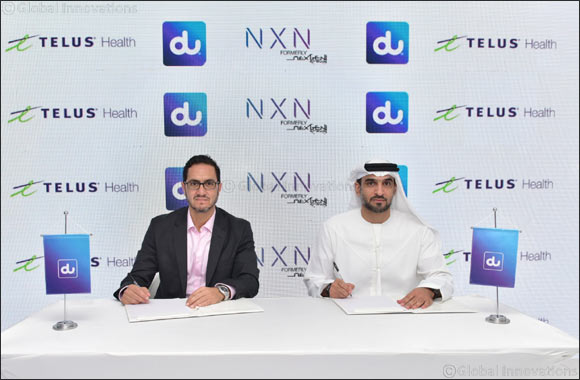 The organizations will select and implement the best in class TELUS eHealth solutions in line with the UAE's visions to provide world-class healthcare services

Dubai, UAE, 8 October 2019: du, from Emirates Integrated Telecommunications Company (EITC), along with and NXN and TELUS Health, a specialized advisory and consulting organization, are collaborating to roll out the TELUS Health eHealth solution portfolio in the UAE. This consortium complements the organizations' focus in developing a national eHealth capability to improve the healthcare outcomes in line with the UAE Vision 2021 to provide world-class healthcare.
As an integral part of enabling technologies in multiple industries for the UAE, du is working with TELUS Health and NXN to optimise the UAE's healthcare system as well as widen its capabilities and eHealth portfolio to strengthen the UAE's healthcare sector.
'Empowering eHealth Innovations'
Marwan Bin Dalmook, Senior Vice President - ICT Solutions & Smart City Operations, du, said: "Empowering citizens and residents of the UAE to lead happier and healthier lives is a key driver for du's innovations in the eHealth space. That's why our partnership with TELUS Health and NXN is a vital sign for the UAE healthcare sector. Through the power of this collaboration, we are proud to be exploring innovative eHealth outcomes to drive the next generation of the sector while delivering an enriched patient experiences for all."
Ghazi Atallah, CEO at NXN, said: "We are proud to be part of this collaborative effort to transform the UAE's healthcare sector. At NXN, impactful transformation is a critical component of our company's DNA, which is why we thrive in enabling clients to build and manage their digital journeys through next generation technology innovation in line with the UAE smart city visions."
Charbel Ghannoum -Senior Director, Global Partners, EMEA from TELUS Health, said: "The UAE has created a reputation across the world for innovation and bold objectives that are at the bleeding-edge of smart city developments. In partnership with du, we believe our customer-centric approach paired with du's technological capabilities and expertise will create successful connected healthcare innovations to serve the UAE healthcare sectors clinician and patients with better health outcomes."
'Placing Patients First''
By working with NXN and TELUS Health to implement the TELUS Health solutions, du will leverage TELUS Health's suite of eHealth portfolio, which comprises of applications to improve the medical journey for four key stakeholders – Patients, Physicians, Pharmacies and Payors.
These applications include, but are not limited to, e-Prescriptions, e-Claims, Remote Patient Monitoring, mobile Electronic Health Records and Telemedicine Platform. The goal of these applications is to not only streamline the process for healthcare transactions, but also minimize gaps for the most important stakeholder, the Patient.
The consortium brings together a unique and powerful combination of knowledge, technology, assets, and experience to meet the needs of the healthcare marketplace and provide it with a solution to make the UAE a global example for other nations to emulate.
To explore this and other innovations that are shaping the future of digital human experiences, visit du's GITEX Technology Week stand in Zabeel Hall 2 stand C20.