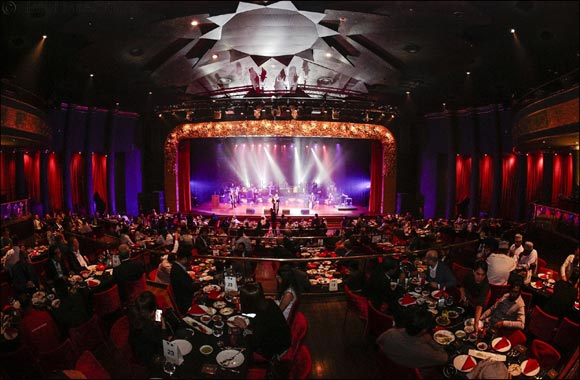 The leading German paint manufacturer marked two decades of growth and innovation in the region
Dubai, United Arab Emirates - October 09, 2019: Caparol Paints, a global manufacturer of German paints and coating solutions, marked its twentieth anniversary of successful operations in the Middle East and Africa. Caparol Paints is bringing its technologically advanced and sustainable solutions suitable to the region for two decades now.
The company's celebration of 20 years in the region witnessed augmentation of its operations to the next level by catering to larger interior, exterior and architectural projects across the Middle East and Africa. Over the last two decades, Caparol has introduced innovative solutions and products that have set new benchmarks in the region's painting and coating segment. The German technology used in developing these solutions helped Caparol become the most reliable brand in paints and coatings segment across the region.
The company celebrated the milestone with a glamourous event held at the MusicHall, Jumeirah Zabeel Saray Hotel at the Palm Jumeirah. The milestone event was attended by over 200 key dignitaries, including Caparol's global and regional leaders, authorities from the Federal Republic of Germany and the United Arab Emirates, key customers and representatives from top infrastructure development companies and patrons from across the region.
Caparol has always strived to be a trustful partner to customers, employees and stakeholders around the world for more than a century, with a social commitment to create a sustainable future. Caparol, being one of the first global paint manufacturer with its production plant based in Dubai Industrial City, is spearheading the drive of architectural creativity in the region. Caparol offers a comprehensive product range, attention to detail, years of German tradition and sustainability that determine its core values.
Commenting on the 20th anniversary of its operations in the region, Dr. Ralf Murjahn, CEO of DAW Group, said, "We have reached an exciting milestone in the Middle East and Africa region. We are grateful to all those who added meaning to our journey during the past two decades. Caparol has always played a key role in accelerating the growth of sustainable development in the places it operates in. Our products have significant influence on individual health' like improving indoor air quality, managing indoor temperatures, humidity and acoustics. Caparol Paints leads innovation with a highly sophisticated research and development department that constantly initiates technologies and manufacturing techniques complementing the local market conditions. Our ambition for the future is not only to sell high quality paints with German technology, but to improve the performance of buildings in the region, and thus contributing to the wellbeing of the people who live or work inside those buildings."
Mr. Martin Rosocha, Managing Director - Middle East, Caparol Paints, said, "Our customer-focused approach has propelled the growth of Caparol across the painting and coating industry segments in the region. It would be our endeavour to consolidate Caparol's position further in the coming years with focus on quality, technology, customer experience and make it one of the strongest brands in the region. Caparol has shown a strong growth in the Middle East with revenues doubling in the last five years."
"We are happy to bring innovative products to this market. Furthermore, Caparol takes a holistic approach by offering services for painters and plasterers, paint wholesalers, planners, architects and the housing industry. From colour collections, colour schemes, consultancy material, digital services and technical consultancy aids through tinting and construction site services, Caparol offers professional development as well," he added.
Mr. Mowaffaq Balish, Commercial Director Middle East at Caparol Paints, said, "We achieved the growth in the region by presenting a wide range of quality solutions, powered by modern technology and in line with the rapid changes in consumer requirements. We look forward to growing from strength-to-strength with exciting plans and developments afoot too. Our global footprint and broad portfolio are unmatched. We provide customers all the information helping them make an informed choice."
"Caparol places high priority in serving the best interests of the society to make a real difference to the community. By collaborating with local governments, business partners and non-profit organizations, Caparol practices an inclusive business model rolling out social responsibility programs that empower communities in which we operate. We are committed to localized programs that inspire hope and empower individuals, families and communities to improve their lives in a sustainable way," he added.
Caparol Paints recently rebranded its product packaging with new green buckets with a 'Go Green' motto and a new look-and-feel of the products. This is aimed to contribute to the sustainable infrastructure development agenda of the UAE and region.
This helps Caparol remain the market leader in the category of external thermal insulation systems and stone finishes for the past 20 years, since its launch in 1999.
In the UAE, Caparol has added two experience centers in Dubai and Sharjah. The third experience centre will soon open in Abu Dhabi. These centers mark Caparol's commitment to strengthen and support its reach and distribution. It also enhances the brand's ability to help customers choose the right colours, paint textures and finishes.
Caparol takes the responsibility to find a balance through economy, environmental compatibility and quality of life. This includes protection of the environment, efficient use of resources and creation of a comfortable living environment for the people.