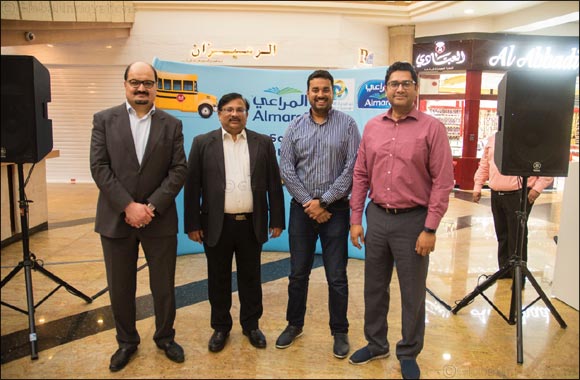 Almarai Emirates Company LLC conducts the gifting ceremony of their 'Back to School' promotion at Etihad mall
Dubai, United Arab Emirates - October 12, 2019: Saudi-based firm 'Almarai' hosts the gifting ceremony of its 'Back to School' campaign at Etihad Mall.
Union Coop and Almarai are two of the most familiar and trustworthy brand names we have in the UAE. Almarai announcing '105' winners through this event is living proof of their commitment towards their valued customer.

As part of Almarai's 2019 Back To School Campaign, a raffle draw was conducted on 26th Sept 2019 at Almarai Office, Dubai. The draw was conducted in presence of Dubai Economic Department official and a total of 100+ coupons were selected for families tickets to Warner Brothers Park, Abu Dhabi. In addition to this, a Grand winner was selected for an exclusive Annual pass. This year Almarai not only gave away instant school-related prizes (bags, boxes, UHT Milk etc) to Union Coop Shopper but also provided family tickets of the new WARNER BROTHER PARK – ABUDHABI UAE to families via raffle draw.

Attendees from Almarai included Mr. Imad Rashid – Media Section Manager, Union Coop and from Almarai: Mr. Thomas Koil Raj – Key Accounts Manager, Mr. Shahzad Gill, Trade Marketing Gulf, Mr. Baiju Krishnan Area Sales Manager, Almarai, Mr. Faaz Haqqi, Trade Marketing Manageralong with other Senior staffs.