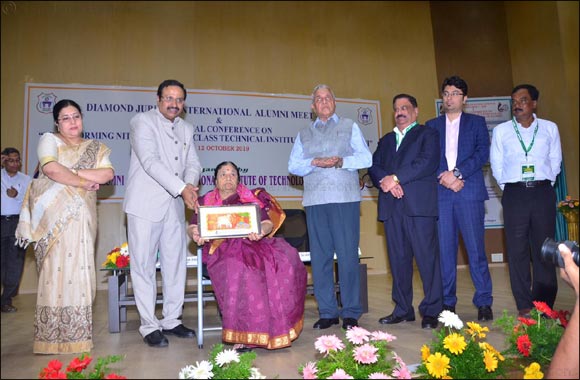 Sudhakar R. Rao, Chairman of Gemini Group pledge financial support of INR 10 million to his Alma Mater NIT Warangal on the occasion of its Diamond Jubilee celebrations. Funds to be used towards setting up a state of the art innovation and incubation center.


Dubai, United Arab Emirates - October 13, 2019: Dubai-based Non-Resident Indian (NRI) business leader – Sudhakar R. Rao, Chairman of Gemini Group - has donated INR10 million (equivalent of more than Dh 500,000) to his Alma Mater NIT Warangal on the occasion of Diamond Jubilee Celebrations of the institute, to help setup Innovation and Incubation Centre.
On behalf of Mr Sudhakar Rao, the cheque was handed over by his mother, Mrs Ganga Raghavendra Rao and sister, Ms Sujatha Srinivasan Rao in presence of eminent dignitary KK Agarwal, Chairman, National Board of Accreditation to Prof. NV Ramana Rao, Director, NIT Warangal.
Mr Sudhakar Rao, is the Founder Chairman of Gemini Group, one of the largest business conglomerates in the Middle East, having presence in real estate, energy trading and wealth management sectors. He continues to support large programs on education and social welfare in both India and the Middle East nations.

Gemini group develops state-of-the-art yet affordable luxury properties across the region, adhering to highest standards of quality in design, technology and materials. It strives to build a reputation based on quality, efficiency, meticulous planning, top quality amenities, practical designs, timely completion and hand-over of projects.
Mr Sudhakar R. Rao, Chairman of Gemini Group said, "In my experience, most businessmen naturally gravitate towards channelizing their resources to maximize income and profits. Deviating from the stereotype, it has been my endeavor not just to guide my enterprise's growth, but also be able to inspire the upcoming generation to dream and make a difference!"
"Innovation, technology and disruption is at the core of every business making in big in today's world. Hosting some of the brightest minds of India, I am convinced there is an abundance of skill in terms of innovative thinking and technical know-how at NIT Warangal. The challenge is to harness this potential to solve meaningful, real world problems.
"Going forward, we shall seek better ways to offer long-term support to the institute, which plays a great role in what I am today. I am fulfilling a long desire to repay the tremendous debt of gratitude to my alma mater. I take great pride of being an alumnus of NIT Warangal."
"With my humble contribution to setup this Innovation and Incubation center, I urge every student to utilize this unique facility and ecosystem to realize their dreams and create a lasting impact on society."
A native of Tamil Nadu, India, Mr Rao is an alumnus of the institute and pursued his degree in electrical engineering in the batch of 1977-82.