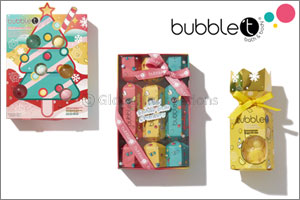 Dubai, UAE - November 20, 2019: The festive season is upon us here and whether you are looking for the perfect gift for your loved ones or simply want to indulge yourself in bath products that look pretty and will leave your skin feeling great, these colourful and fragrant bath sets from Bubble T will serve as the ideal gifts for the festive season and leave a lasting impression too. What's more, as well as looking amazing, the products are also completely paraben-free, sulphate free and cruelty free.
**The Festive Range**
Mini Bubble Bath Crackers – AED75
This trio of Christmas crackers is guaranteed to bring smiles and laughter to both your dinner table and your bathroom! Each cracker contains a 30ml bubble bath in the Bubble T core fragrances; Lemongrass and Green Tea, Hibiscus and Acai Berry and Moroccan Mint Tea.
Bombs Away – AED89
Surprise your loved ones this festive season with this bath bomb fizzer set containing 5 bath fizzers. Packaged in a colourful and holographic design, this gift set is the perfect treat for any bath bomb lover. With a different surprise hidden inside each holographic foil, the recipient can relax to the max with this limited-edition gift set.
Pick n Mix Pot – AED89
With a reusable drinks cup and straw, perfect to fill with your favourite flavor of bubble tea after using, this set contains 3 shower gels and a shower puff; it's everything you need for the perfect fresh and fruity shower or bath.
Christmas Cracker Bath Bomb & Confetti Duo – AED45
Ideal as a gift or luxurious stocking filler, the festive favourite contains a full-size bath bomb fizzer and a large sprinkling of melting bath confetti. The perfect bath time duo, simply drop one bath bomb fizzer into warm water before a handful of confetti for a bath like no other.
Big Beauty Advent Calendar – AED215
This super-sized advent calendar contains everything you need to liven up your bath or shower this festive season. From bath bombs to scrubs, jellies, lotions, gels and more, a surprise awaits through every door and by its sheer size!
Cracking Bombs – AED60
Filled with 3 bath bomb fizzers in Lemongrass and Green Tea, Hibiscus and Acai Berry and refreshing Moroccan Mint Tea, this fizzer stack is sure to jazz up any bathroom this festive season.
Jar of Bath Fizzers – AED75
A feast for the eyes, these mini bath bomb fizzers contain essential oils to hydrate and deliver nourishment and fragrance to your skin. Don't forget the re-usable jar and straw!
Tree Bath Bomb & Shower Gel Gift Set – AED89
The ultimate gift for any bath lover, this set contains 3 shower gels and 3 bath fizzers in the signature Bubble T scents. The fun tree design is the perfect gift to find under your very own tree this festive season!
Bath Bomb Lolly Fizzers Gift Set – AED69
These bath bomb lolly fizzers are the perfect gift for a loved one or a treat for yourself! These adorable popsicles come in the 3 fragrances so you can pick and choose which bath bomb you'd like to brighten up your bath time.
Christmas Cracker Bath Bomb Gift Set – AED59
Containing much more than a paper hat and a joke, this cracker set contains 3 best-selling bath fizzers and makes for an ideal stocking filler or treat for yourself.
Bathroom Essentials Gift Set – AED135
All of your bath time essentials neatly packaged together to create the bath of dreams! Containing a squeezy bubble bath, shower gel and a luxurious candle, give the gift of relaxation this festive season.
Wheel of Fizz Bath Bomb Gift Set – AED125
Spin the wheel to decide which bath bomb to choose! With 6 large fizzers in Lemongrass and Green Tea, Hibiscus and Acai Berry and Moroccan Mint Tea, the recipient of this gift will be thoroughly spoilt for choice!