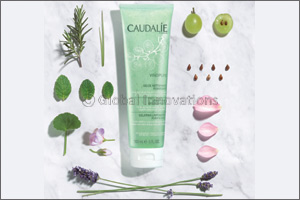 " Vinopure Purifying Gel Cleanser is the first essential beauty step for clean, clear and blemish-free skin. This gel cleanses the skin deep down, helping rediscover beautiful, balanced skin. "
Mathilde Thomas
A COMPLETE RANGE OF NATURAL PRODUCTS
Last September, Caudalie launched its awards-winning collection Vinopure, an ultra- natural, effective, sensory skincare routine to help women deal with unbalanced skin.
In 2019, Caudalie is launching its Purifying Gel Cleanser, a refreshing sulfate-free and soap-free gel that cleanses pores thoroughly without drying the skin.
GENTLY PURIFIES THE SKIN
Its highly natural formula is gentle and effective, visibly tightening pores, reducing excess sebum and minimising blemishes.
This refreshing gel complements the Vinopure routine. A natural and effective way to cleanse your skin and prepare it for further treatment.
1. Dispense.
2. Apply onto.
3. Massage damp skin, to create a light foam.
4. Rinse off. Avoid eye contour area.
Purifying Gel Cleanser
Available from September 2019
NATURALLY EFFECTIVE AGAINST BLEMISHES
Like the other products in the Vinopure range, Purifying Gel Cleanser contains:
- The Caudalie patented complex(1) combining antioxidant grapeseed polyphenols with six purifying essential oils: lavender and lemon balm from France, lemongrass from Madagascar, geranium from Egypt, peppermint from India and rosemary from Tunisia and Morocco. This combination acts like a shield to prevent the production of the P.acnes bacteria, responsible for blemishes, and helps to reduce sebum oxidisation, the main cause of a dull complexion and pore inflammation.
- 100% natural exfoliating salicylic acid
Derived from wintergreen, a plant native to Asia, salicylic acid is extracted in its pure and natural state. It unclogs and tightens pores while refining the skin's texture.
- Soothing, moisturising and antioxidant organic grape water
From organic grapes grown in the South of France.
(1) Patent PCT/EP2018/050482
96% OF WOMEN SAID THEIR SKIN WAS PURIFIED(2)
83% OF WOMEN SAID THEIR SKIN WAS LESS SHINY(2)
83% OF WOMEN SAID THEIR PORES WERE CLEANSED(2)
(2) Self-assessment, 28 days, 30 volunteers..
A ROUTINE FOR COMBINATION TO OILY SKIN
The ultra-effective Vinopure routine now has four steps. An ideal skincare ritual with luxury textures, to fight against blemishes, shine, blocked pores and uneven skin texture... leaving the skin with a genuine shot of freshness.
4EME DE COUV
Born in the heart of the Bordeaux region, in the "Smith Haut Lafitte" domain, Caudalie is a 100% family-owned and independent French cosmetics brand that uses the benefits of ingredients from the vine and grapes. Caudalie was created in 1995 by Mathilde Thomas and her husband Bertrand, after meeting Professor Vercauteren, world specialist in polyphenols and Professor of Pharmacognosy at the Faculty of Pharmacy of Bordeaux.
Caudalie products are natural, effective and glamorous. They are based on a model of natural science that follows a very strict charter, known as 'Cosm'ethics.'More integrated and proactive cosmetics, for which Caudalie has banned numerous controversial ingredients (phtalates, mineral oils, sodium laureth sulfate, parabens, phenoxyethanol, etc.) in favour of more natural formulas, developed at the Caudalie Natural Formulation Laboratory in Orléans.
Caudalie was founded in 1999 among the vines of the Château Smith Haut Lafitte estate and invented the first Vinothérapie Spa, which celebrates its 20th anniversary this year. The spa's expert Vinotherapists carry out treatments that are truly unique, thanks to the use of natural ingredients combined with the latest active ingredients patented by Caudalie.
Since 2012, Caudalie has been a member of the '1% for the Planet' network and thus contributes 1% of its worldwide turnover to organisations working to protect the environment. To date, over 10 million euros has already been donated by Caudalie to associations working to combat deforestation. Caudalie is committed to planting nearly 8 million trees by 2021 in 8 countries such as Brazil, in association with Nordesta and Coeur de Forêt, as well as in Peru, China and Thailand, with PUR Projet. Caudalie also partners with WWF in Mexico, Planète Urgence (Planet Emergency) in Madagascar and the Arbres & Paysages (Trees & Environment) organisation in France.
In 2019, Caudalie is joining forces with Coral Guardian through a programme to transplant and restore over 3,000 corals, as well as with The Reef-World Foundation and the Surfrider Foundation with actions to protect and raise awareness of the marine ecosystem.