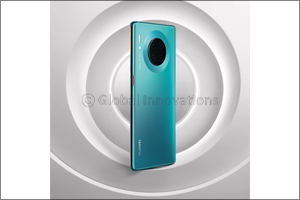 Super performance, an iconic design, and videography features never seen before!
Dubai, United Arab Emirates, January 09, 2020: Have you ever thought how it would be to have blazing 5G speeds in your hand? Streaming 4K videos with ease or taking super clear videos at night? Or even taking your social media to the next level with ultra-slow motion videos as if they were shot on a professional camera or by a movie director? These phone features surely seem like a thing of the future, but now it is all possible thanks to Huawei's latest flagship, the HUAWEI Mate 30 Pro 5G. It packs a whole lot of powerful and iconic features, but to make it easier for you, we picked out 5 super reasons why it actually deserves the title as the King of 5G smartphones.
1. Enjoy super performance along with futuristic 5G speeds today
Thanks to its chipset Kirin 990 5G, the HUAWEI Mate 30 Pro 5G is a one of a kind 5G smartphone that supports both Non-Standalone (NSA) and Standalone (SA) 5G networks delivering a super powered performance and connectivity at all times. While we understand you might get lost with all that tech jargon, let us explain what (NSA) and (SA) 5G networks mean.
The first wave of networks of 5G networks are classed as Non-Standalone (NSA), which is to say the 5G networks will be supported by existing 4G infrastructure. However moving forward there will be a switch to the 5G Standalone (SA) network which is the ultimate 5G proposal with faster speeds. So If you purchase a smartphone that only supports NSA, once the migration to SA takes place, phones that lack this feature will not work in SA 5G networks. However, by being able to support both NSA and SA networks, you can rest assured that your HUAWEI Mate 30 Pro 5G will be rearing to provide you super performance at all times and seamlessly making the transition without any issues in any region or any stage of 5G development.
2. A whole range of super iconic features at a glance
Huawei is known for bringing unique looks to its devices. The HUAWEI Mate 30 Pro 5G follows the tradition by being a device that's just as unique as you! Featuring a new Halo Ring design and a sweeping 88-degree ultra-curve, the HUAWEI Mate 30 Pro 5G is sure to turn heads when you whip it out, and can we talk about the colours of this iconic phone? The HUAWEI Mate 30 Pro 5G comes in a stunning Emerald Green and a unique Vegan Leather Orange that we absolutely love!
While the Ultra Curved HUAWEI Horizon Display creates a more endless screen design that makes it even more immersive. This 5G flagship from Huawei is packed with wide range of AI powered features, like AI gestures, so what does that do? Well you don't have to keep down your coffee mug or spoon to scroll across a webpage, all you have to do is move your hand up or down, or even pinch to take a screenshot, yes you read this well! What makes it even better is, the phone automatically detect the angle of your eye and the AI Auto Rotate feature will adjust the display accordingly. This means you don't have to keep flipping your phone to get the right orientation, just snuggle into your blanket and enjoy your favourite videos. Want to share photos and videos from your laptop to your phone? With Multi Screen Collaboration*, you can seamlessly stream your phone on your laptop, making it a lot easier to share, swap and transfer everything.
*Available on certain HUAWEI phones and HUAWEI Matebooks only.
3. Super videography worthy of a professional camera
Now Huawei is well known for breaking the rules of smartphone photography and with The HUAWEI Mate 30 Pro 5G , the brand just took videography to the next level! Let's be honest most of us now take more videos than photos, be it uploading stories to your social media feeds or just sending videos to your family and loved one to share memories with them, videos are becoming more and more popular, Huawei surely understood this when it packed this flagship with a unique 40 MP dual main camera that boast a SuperSensing Cine Camera. This means you can take stunning photos and even more impressive videos with a simple point and click: the Ultra Low-Light Video feature will help you take well-lit videos that captures everything in a midnight trek or you can even take ultra-slow-motion recording to the professional level at 7680 fps, making sure you don't miss a single frame and make your memories "last forever" literally!
4. A super battery that charges faster than ever
Worried that your phone is going to run out of battery when you are out and about? The HUAWEI Mate 30 Pro 5G has a massive 4500 mAh battery, that can last for a long time even while using the camera or gaming or web browsing. But wait, what if you have to be stuck at home charging this massive battery back up? Not to worry, because you can quickly charge it back up with the TUV Rheinland certified 27W wireless HUAWEI SuperCharge and 40W wired HUAWEI SuperCharge technology. If you need to charge on the go, you can always use the 40W In-Car Wired Charge and 27W In-Car Wireless Charger. Even wireless reverse charging is updated meaning you can now use your phone to charge other devices.
5. Keep things safe and secure
The HUAWEI Mate 30 Pro 5G got you covered, thanks to its isolated Trusted Execution Environment (TEE), which ensures all sensitive data such as fingerprints, facial information and voiceprints are stored in the most secure part of the chipset itself.
Your messages and notifications are also safe from prying eyes when you receive them thanks to AI Private View, which hides content when extra faces are detected, even alerting you! Unlocking your phone is also made more secure with dual-biometric authentication comprising of 3D Face Unlock and In-Screen Fingerprint.The new HUAWEI Mate 30 Pro 5G does not pre-install Google Mobile Services, and you will be able to download and enjoy the applications from the HUAWEI AppGallery preinstalled in the device.
Price and Availability:
Device

Colors

Price

Availability

HUAWEI Mate 30 Pro 5G

8GB / 256GB

Orange and Emerald Green

3899 AED

*Pre-orders: 15/01/2020

23/01/2020

*Pre-orders: HUAWEI Mate 30 Pro 5G is available for pre-orders starting January 15th and with each pre-ordered consumers will receive: DJI OSMO Mobile 3 stabilizer, HUAWEI Supercharge Wireless Car Charger and Exclusive 2 year warranty. The smartphone will be available for purchase across Huawei experience stores and select retailers in the UAE on January 23rd.

HUAWEI Watch GT 2 42mm

Limited Edition Rose Gold

1049 AED

09/01/2020

HUAWEI x GENTLE MONSTER EYEWEAR

***

1460 AED

09/01/2020