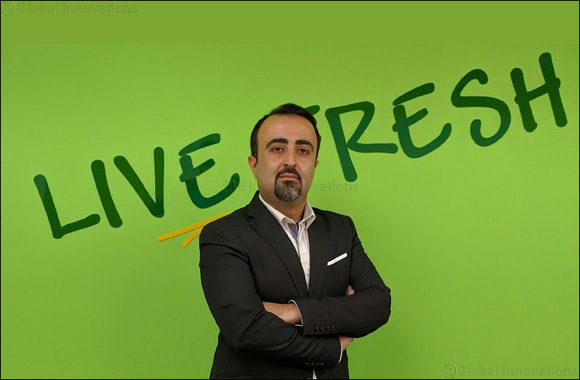 The brand is all set to dd 15 new gourmet ingredients to its offerings
Dubai, UAE, 9th January 2020: A new variety of choices awaits SUBWAY® customers in the GCC region in 2020 after one of the world's biggest restaurant brands announced the rolling of a new experience for its customers. The brand said it will unveil its newest offerings, which will be available across its restaurants in the UAE and its neighbouring GCC states starting January.
"Over the past years, the SUBWAY® brand has been undergoing a major transformation worldwide to keep up with the ever-evolving needs and demands of its customers. We have been introducing different changes - from the feel and look of our restaurants to our innovative packaging and our employees' trendy uniforms - to deliver the best customer experience yet. In the GCC, the scene is no different. One of the most exciting changes this year is the much-awaited launch of our newest items in the menu," said Hicham Ghazal, Subway® Regional Marketing Director for Middle East, Africa & South Asia.
In 2020, SUBWAY® will offer 15 new gourmet ingredients, which are sure to delight its customers' palate. These will include fresh veggies like mushrooms, rocket leaves, and Lollo Bionda lettuce mix. In addition, sundried tomatoes and guacamole will also be added to its varied offerings, while Gouda cheese, Monterey Jack and cheddar, and cream cheese will be offered as well on top of its traditional cheddar and mozzarella cheese.
Moreover, in a bid to improve its existing range of flavors, SUBWAY® will introduce to the mix extra virgin olive oil, balsamic vinegar, truffle mayo, Sriracha dressing, pesto sauce, sea salt, rock pepper, and many more. Customers can build their custom-made meal on freshly baked bread, wraps, and paninis. Or, they may opt to go for a delicious freshly made salad.
Mr. Ghazal said: "We have been investing lots of efforts in food innovation over the recent years, with us intensifying our efforts in 2019. We have been bringing new flavors and platforms to the regional market, making sure that the latest additions fit the unique taste of our customers here. We have no plans of slowing down in 2020. In fact, we have already set our eyes on new and innovative approaches and our newest menu offerings will be our opening salvo for the new year."
More than 500 SUBWAY® restaurants are currently operating across the GCC, with a strategic expansion plan now in the pipeline. The brand plans to run a total of 550 restaurants in the region and more than 1,500 stores across the Middle East, Africa, South Asia by the end of 2020. By doing so, it seeks to broaden the brand's reach and make its competitively priced, high-quality, and delicious sandwiches and salads more accessible to all its target markets.
SUBWAY® continues to enjoy a robust presence in the GCC region. In the UAE alone, SUBWAY® produces more than eight million sandwiches a year.
"The ultimate goal in redefining our approach in 2020 is to offer customers an elevated experience. As a brand, we have been listening carefully to the voice of our guests and been working hard to satisfy their needs. We are excited about the new approach and will continue to evolve and offer our guests newer and personalized experiences, while staying true to providing nutritious, affordable and fresh food," concluded Mr. Ghazal.