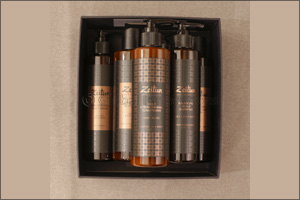 ** An indulgent natural cosmetics brand on a mission to bring traditional luxurious wellness rituals into modern everyday life **
Dubai, United Arab Emirates, January 19, 2020: The Zeitun brand of natural cosmetics and perfumes is the direct legacy of traditional beauty & wellness rituals. Drawing inspiration from ancient Arabia, our products are a true combination of cultural heritage, exotic natural ingredients, delightful aromas, sophisticated design aesthetics and highly efficient modern technologies. Launching in the UAE this January on Amazon.ae, Zeitun Cosmetics will be available to all women and men in the region with the simple click of a button.
Zeitun is a fast-growing international company with a product portfolio expanding from our original Aleppo soap to an extensive range of beauty products made of the finest raw materials from Jordan, India, Morocco and Europe. Natural skin and hair care are the foundation of oriental beauty traditions. Guided by the wisdom of the ages, Zeitun ensures to use only the purest and highest quality natural ingredients in each formulation. All products contain 100% natural actives, and are free from toxins and harmful chemicals. Zeitun's team of experts are constantly searching our precious planet, earth and seas for ingredients which will fulfill their potential and create the most skin-friendly treatments possible.
Zeitun Cosmetics consists of five main product ranges, each being results driven and ensuring that they cater to everyone in the region:

Your beauty and wellbeing are Zeitun's main priority, that is why we never compromise on effectiveness. Encompassing time-proven precious natural ingredients with scientific innovations, Zeitun treatments deliver truly outstanding results to make you admire your own reflection in the mirror.